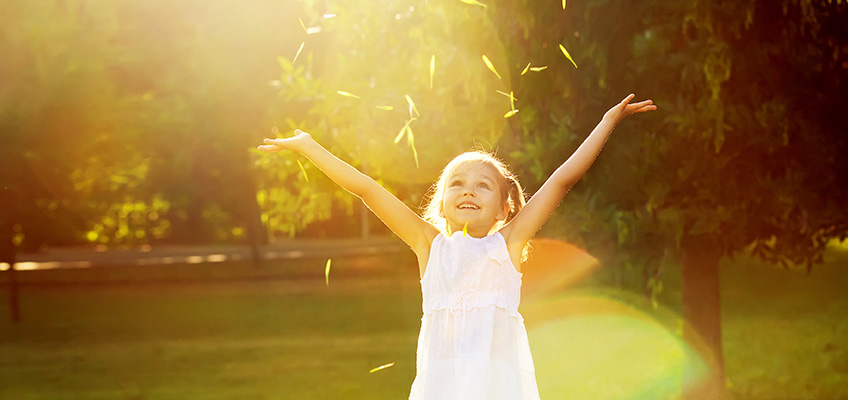 Children: Don't you just love them! So joyful, caring, appreciative and openhearted. Whether you are 6 or 60, these are qualities to be cherished and admired. What parent does not wish to nurture such qualities as they watch their children grow?
The HeartMath Institute shares this wish, and during its many years of scientific research into human stress and emotions has established that these qualities children so naturally possess have the power to transform our lives. Like you, we see in our children the hope of the future, and we have studied extensively ideas for nurturing these positive qualities of the heart in young children.
HeartMath's Shift and Shine® Technique is a powerful tool developed especially for ages 3-6 that has proven effective in giving children an early start on how to manage their emotions and engage in socially accepted behavior, while also strengthening positive feelings such as love, caring and appreciation. Like adults, children, even our youngest, experience stress, and this tool can help lessen it by teaching them skills they can carry throughout their lives.
Parents/guardians and teachers — pre-school and elementary — will find this technique easy to teach and fun for children and themselves. Its takes only a few minutes, so you and your children can practice it daily.
Shift and Shine® Technique
Parents, help your children with the following steps:
Place your attention on the area around your heart or center of the chest. It helps to put your hand over your heart area. Model by putting hand over your heart.
Now pretend to breathe in and out of your heart. Take three slow breaths. Model the breathing.
Think of someone or something that makes you feel happy, like your mom or dad, or a special place that you visit, like the park. Feel that happy feeling in your heart and then shine that happy feeling to someone or something special — your brother or sister or the whole world. Let the children experience the feeling for a few seconds. The length of time will increase with each exercise.
That's all there is to it, but practicing these steps daily or a few times has the power to reinforce the best qualities in children, to improve their outlook, self-image, sense of security and more, including the following:
Strengthen expression of positive feelings
Improve impulse control
Improves relationships with family and friends
Increase learner readiness for school
Learn more about the benefits of HeartMath's Shift and Shine Technique in a special color slide presentation.
Parents and Educators interested in learning more about HeartMath's The Sunshine Secret e-Learning for ages 3-6+ and HeartSmarts® Adventure e-Learning for ages 4-6+. Both e-Learning programs can be used at home or in a classroom.