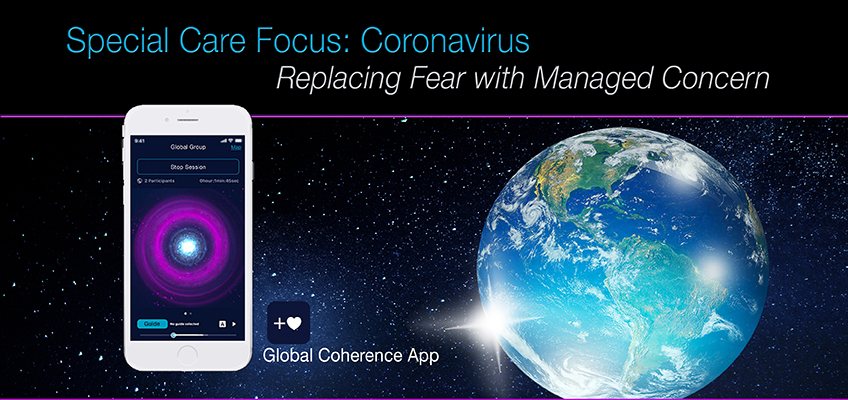 Special Care Focus:
Coronavirus, Technique for Reducing and Overcoming Fear
Welcome to a Special Care Focus regarding the Coronavirus – a technique for reducing and overcoming fear. In order for everyone around the world to participate in a synchronized Care Focus, beginning Wednesday, March 25th we have chosen three convenient times: 4 a.m., 12 p.m. (noon), and 8 p.m. Pacific Time (GMT/UTC minus 7 hours)*. Please join with others on the Global Coherence App or the Global Care Room. We will do this every Wednesday until the Coronavirus pandemic subsides. Thank you for joining with us. Share with those you feel it could help.
At times we send a special Care Focus to help lift the energetic field when a global event creates disruption and fear throughout the planet. As the Coronavirus (COVID-19) pandemic expands its footprint in over 100 countries, it's obvious that fear and anxiety from uncertainty is robustly on the increase.
The Care Focus below is to compassionately help transform the intensity of personal fear into a more grounded attitude and feeling of managed concern which, unlike fear, connects us more deeply with our heart's intuitive discernment. This provides clearer thinking, effective discernment, and much better choices through times of uncertainty and rapid changes.
Continue reading