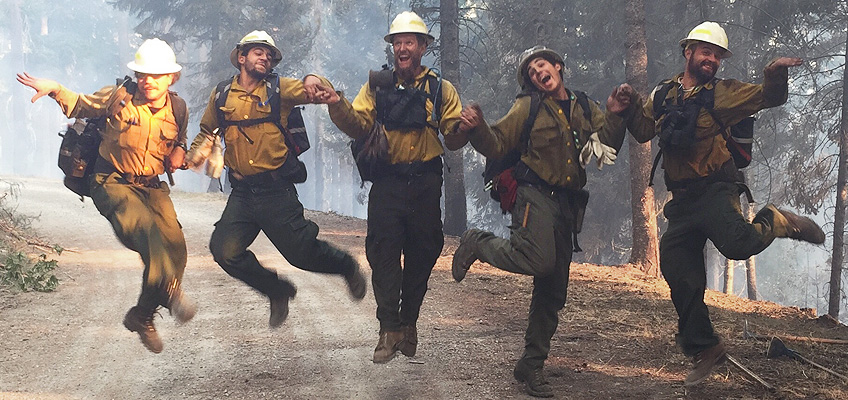 Here is an uplifting photo of Boulder Creek Volunteer Fire Department (BCFD) firefighters that was posted on Facebook on the morning of August 24th after a light rain came in, which is very unusual for Boulder Creek in the summer, that allowed them to get ahead of the fire. They called this the BCFD "Rain Dance!"
Message from HeartMath Team
Both the HeartMath Institute and HeartMath LLC had to evacuate our office buildings and homes in the beautiful redwood mountains of Boulder Creek, California late in the evening on Tuesday, August 18th due to wildfires.
All HeartMath staff are safe and are sheltering with family, friends, in motels or temporary rental homes. Our buildings are still standing due to the heroic efforts of the firefighters. Yet, the fires are not out, and we so appreciate the continued outpouring of heart being sent from so many of you – our members, clients, certified professionals and all those we work with. We have received comments from around the world filled with love and care.
We are all using our HeartMath tools to navigate through the challenges with a sense of clarity, ease and emotional poise. The HeartMath teams are operating virtually and coming up with new ways to serve you effectively. We are taking orders, if you've been thinking of placing an order for yourself or someone else or taking one of our HeartMath training programs. However, there is a delay in shipping products. We expect to be able to access our warehouse within the next couple of weeks so it shouldn't be too long.
Our hearts go out to our local community residents, especially those who have lost their homes, and to the firefighters from all around California, other states, and even from around the world who are still working day and night to quell the fires.
Here's a heartfelt reflection we practice each day that we feel is effective, if any of you would like to join us.
Hold the firefighters in your heart and see them surrounded in light, love and safety. Radiate love, compassion and comfort to all who have been affected by the fires.
With love and appreciation,
Sara Childre
President