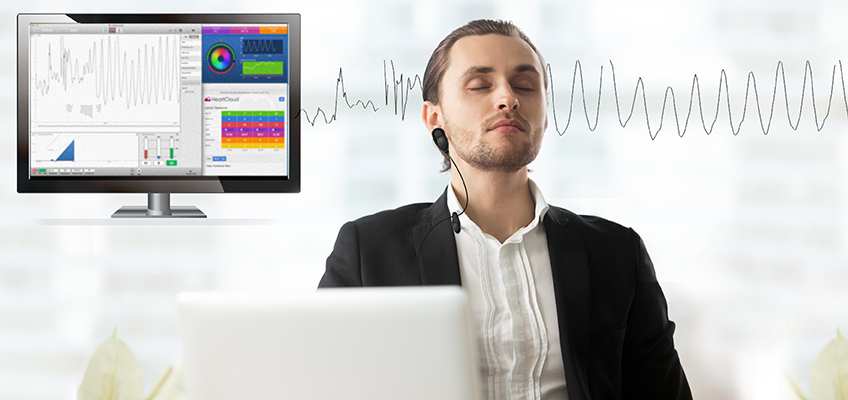 Study Uses Paced Deep Breathing to Measure Dutch Workers' HRV
The researchers who conducted a recently published study using a short breathing protocol to measure heart rate variability (HRV) in a large group of Dutch workers say it's the first of its kind.
"This is the first study," the researchers explained, "to explore a 1-minute paced deep-breathing HRV protocol as an objective screening measure for multiple future health issues in a working population."
The study, Exploring a 1-Minute Paced Deep-Breathing Measurement of Heart Rate Variability as Part of a Workers' Health Assessment, explored associations between a compressed measure of HRV and health-related parameters. It was intended to be a first step to studying the value of using HRV measures in a workers' health assessment (WHA). (HRV, a measure of the consecutive differences in time between heartbeats.)
The Participants
After narrowing the original 1,420 invitees due to various factors, a final total of 877 workers from 14 companies in the Netherlands participated. Personal and job characteristics, work ability, psychological and mental problems and lifestyle were measured with questionnaires. Biometry, including BMI (body mass index), waist circumference, blood pressure, glucose and cholesterol), also was measured.
The subjective measures above were correlated with the objective measure of HRV, assessed when participants performed the one-minute paced deep-breathing protocol. HeartMath Institute (HMI) Director of Research Dr. Rollin McCraty, one of the scientists who conducted the study, explains the breathing protocol. "In the assessment, the breath is paced and the participants are instructed to breathe as deeply as they can. This combination is a challenge task of sorts that asks the question, what is the max HRV their system can produce at the time of the assessment?"
The protocol, in which participants' breathing rhythm was paced at six breaths per minute, has some similarity to, but was not the same as HeartMath's Heart-Focused Breathing® Technique, McCraty observed.
The Results
Generally, the results of this study either were expected and/or reflected in or corroborated by extensive and cited previous research, according to the authors. For example, they noted, "HRV was significantly associated with age, measures of obesity (BMI, waist circumference), and with reported physical activity. … This study, with apparently healthy workers, showed that the age-controlled, very-low-HRV group was significantly older, employed longer, less educated, had a higher BMI and larger waist circumference than the group with normal-high HRV. A lower HRV was significantly associated with aging, higher measures of obesity (BMI), and with higher levels of reported physical activity."
Researchers, the medical community and other professional sectors have become increasingly interested in HRV, particularly age-related HRV, in recent decades for a variety of purposes, clinical and otherwise. Among these, as McCraty explains in the free course, Heart Rate Variability (HRV) Basics, are health-risk assessment, assessing self-regulatory capacity, detecting abnormalities and imbalances in the autonomic nervous system and obtaining biofeedback that can promote self-regulation skill acquisition, cognitive functioning and overall performance.
Participants' HRV was measured with the earlobe pulse sensor of HeartMath's emWave® Pro Plus technology. HRV was recorded individually in a quiet room, in a slightly reclined seated position. Participants were instructed to remain seated and relaxed and to refrain from making any significant or rapid body movements, which naturally would affect their heart rhythms.
The study's authors note that while 24-hour measurements for HRV are considered to be the gold standard, "Promising results have been reported for a drastically shortened 1-minute paced deep-breathing protocol."
Heart-Focused Breathing
Countless individuals across nearly every continent have experienced the physical, emotional and mental benefits of HeartMath's Heart-Focused Breathing® Technique, which is a core component of all HeartMath System tools and technology. This simple tool has been shown in numerous studies at HMI over more than two decades to ease stress in the moment. (Search Research Library.)
A wealth of research has shown lower stress levels along with healthy lifestyles can help you feel and perform better on a daily basis and even can be significant factors in longevity. Conversely, an equal amount of research has shown, as the authors wrote, "An unhealthy lifestyle is thought to precede health problems, while the other measures are already signs of a health risk."
You can read about the technique in the article Heart-Focused Breathing and here's an interesting blog article, Inroads In Trauma Treatment: Self-Regulating Emotions, about a related HeartMath study.
Heart-Focused Breathing® Technique:
Focus your attention in the area of the heart. Imagine your breath is flowing in and out of your heart or chest area. Breathing a little slower and deeper than usual, breathe in for 5 or 6 seconds and breathe out for 5 or 6 seconds. Continue this for about one minute.