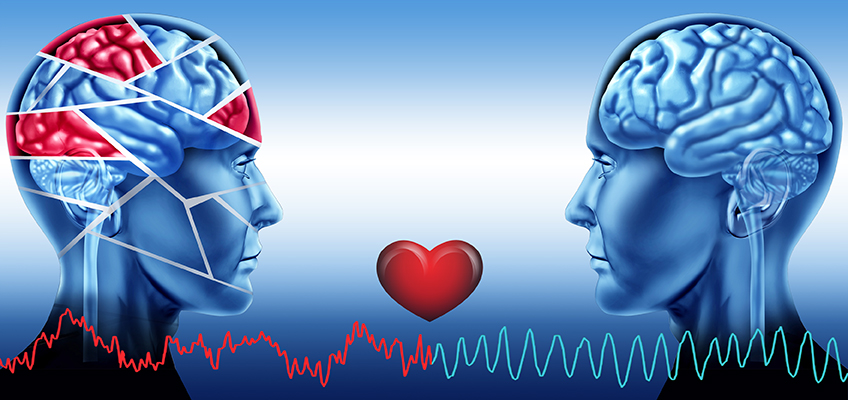 Two 2015 pilot studies conducted independently in neighboring European nations shared similar objectives and reached similar conclusions about the potential benefits of cardiac coherence training for two populations of mentally disabled patients. One of the studies used HeartMath emotion self-regulation techniques as a primary intervention.
In Switzerland, researchers undertook the study, Cardiac Coherence Training (CCT) to Cope With Workplace Stress for People With Mild Intellectual Disabilities,†. They tested the effects the training would have on people on participants in conjunction with their work in sheltered workshops.
Trainers working with the participants at the trial site in the Swiss canton of Vaud, instructed them how to do managed, or controlled breathing and used and heart rate variability data recordings to help improve their autonomic nervous systems (ANS) and lower stress levels.
Heart rate variability is the change in the time intervals between adjacent heartbeats, HMI Research Director Rollin McCraty observed in a professional journal article he co-authored with fellow researcher Fred Shaffer. "HRV is directly related to the body's interdependent regulatory systems and ultimately, their efficiency and health. An optimal level of HRV within an organism reflects healthy function and an inherent self-regulatory capacity, adaptability, or resilience."
The heart coherence training was tested on 17 volunteers with mild intellectual disabilities over two consecutive weeks. It included 30 minutes of introduction to breathing control delivered before the start of participants' working half-days. The intervention's effectiveness was measured by analyzing results shown by a widely accepted stress scale applied to data collected from heart rate variability recordings the week before and after the training period. The recordings were made by "recording boxes (HRV recorders) arranged in the pocket of a shirt with integrated sensors."
†Researchers for this study were: Jerome Favrod, Armando Brana, Angelique Gavillet, Michel Akselrod, Alexandra Nguyen and Julie Palix.
In France, researchers on the study, Cardiac Coherence Training to Reduce Anxiety in Remitted Schizophrenia, observed clinically stable patients with remitted schizophrenia, a stage in which the disease's symptoms are in abatement, or not present. The study was conducted in the city of Lyon.
This study emphasized as a primary intervention emotion self-regulation of patients with schizophrenia. Researchers tested whether emotion self-regulation "may contribute to a less anxious life" in this population.
Citing HMI researchers and findings from a variety of studies, the French study's authors explained that "cardiac coherence training involves the use of biofeedback to control and visualize heart rate variability. … Cardiac coherence is the coupling and synchronization of the rhythm of breathing to the rhythm of the heart." (HeartMath's Heart-Focused Breathing Technique recommends breathing in for five or six seconds, then breathing out for five or six seconds – all while an individuals directs his or her attention on the heart or heart area in the center of the chest.)
"The use of this practice in daily life," has been shown to improve health because of the adjusted autonomic system balance," the study states, paraphrasing HMI Research Director Rollin McCraty, Ph.D. Furthermore, they state, citing other recognized sources, "This balanced state affects the condition of all other systems under ANS control: respiratory, cardiac, digestive, immune systems, and produced a general feeling of wellness."
The training of the Lyon study participants consisted of the following techniques, some of which are variations or very similar to HeartMath techniques, though with different terminology, and others not the same at all: biofeedback-assisted breathing classes to erase negative emotion involving the cardiac and limbic neural pathways; controlling one's own and other's emotions; mastering positive cognition; and enhancing self-conception; anchoring positive memories; and learning how to recognize psychological reversal in others.
Ten patients were enrolled in a regimen consisting of 12 weekly one-hour session programs monitored over a two-month period with standardized pre- and post-intervention assessment of anxiety, well-being outcomes, and how patients deal with stress and stressors. Also, "Three questionnaires were used in order to evaluate the outcomes of the patients' quality of life. The Positive And Negative Syndrome Scale (PANSS) was used, first to assess the severity of the illness, as perceived by the clinical staff.
"Results showed that this quite-well accepted intervention (cardiac coherence training) improved (or tended to improve) well-being outcomes, state anxiety, and emotional stressors evaluation," the authors wrote in the published study. "The successful transformations were higher for patients with the highest clinical and emotional suffering."
Click here to read the study in its entirety.
†Researchers for this study were M. Trousselard, F. Canini, D. Claverie, C. Cungi, B. Putois and N. Franck.
Studies Mirror HeartMath Findings, Methods
HeartMath Institute (HMI) finds the researchers' work in these studies to be of particular interest because of its similarity to and validation of its own work over nearly two and half decades.