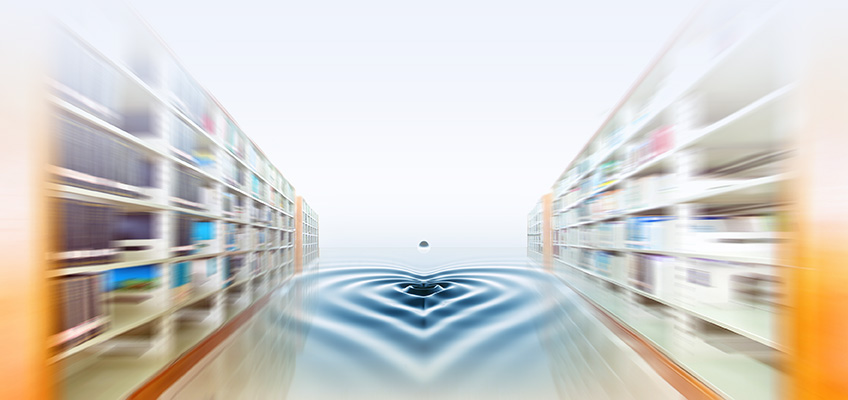 Over the years, the HeartMath Institute has actively pursued a variety of avenues to inform people about its tools, programs, technology and the HeartMath System generally, especially through professional peer-reviewed journals and its own publishing services. Among recently published materials were a pair of articles this spring in an international medical journal and a new emWave® technology manual for professionals and parents who care for children with ADHD.
The Global Coherence Initiative: Creating a Coherent Planetary Standing Wave. This article discusses in depth the current shift in human consciousness; the Global Coherence Initiative (GCI), including the Global Coherence Monitoring System; the interconnectedness of all things; and Earth's energetic systems and their relationship with human health and behavior.
Humankind, the article states, is in the middle of a great paradigm shift from a mentality of competition to one of cooperation.
"All across the planet," the authors note, "increasing numbers of people are practicing heart-based living, and more groups are forming activities that support positive change and creative solutions for manifesting a better world."
The Global Coherence Initiative, established in 2008 by the HeartMath Institute (HMI) as a science-based project to unite people in heart-focused care and intention, "is working in concert with other initiatives to realize the increased power of collective intention and consciousness."
There is evidence from independent sources, they say, of "a global information field that connects all living systems and consciousness." Thus, they theorize, "it stands to reason that humans can work together in a co-creative relationship to consciously increase the coherence in the global field environment." HMI and GCI are educating people in how to increase personal coherence, a scientifically measurable state of mental, emotional and physical harmony.
The following passage in the article describes some of GCI's key goals:
"GCI hypothesizes that when enough individuals and social groups increase their coherence baseline and utilize that increased coherence to intentionally create a more coherent standing reference wave in the global field, it will help increase global consciousness. This can be achieved when an increasing number of people move towards more balanced and self-regulated emotions and responses. This in turn can help facilitate cooperation and collaboration in innovative problem-solving and intuitive discernment for addressing society's significant social, environmental, and economic problems. In time, as more individuals stabilize the global field, and families, workplaces and communities move to increased social coherence, it will lead to increased global coherence."
Efficacy of an Emotion Self-regulation Program for Promoting Development in Preschool Children. This article details the findings of a study in which HeartMath's Early HeartSmarts® (EHS) program was conducted over one school year in 19 Salt Lake City School District preschools. The program teaches 3- to 6-year-olds emotion self-regulation and key age-appropriate socioemotional competencies to promote emotional, social and cognitive development.
The study, which measured students' growth in social/emotional, physical, cognitive and language development, "found a strong, consistent pattern of large, significant differences on the development measures favoring preschool children who received the EHS program over those in the control group."
The authors of the article frequently cite the scholarly works of numerous professionals in psychology, medicine, child development and other areas. Some of them link the lack of social and emotional competencies to academic failure and disease in later life. Among these are noted psychologist, author and researcher James Lynch.
"Lynch," they say, "has provided some sobering statistics that show academic failure (defined by completing less than 10 years of schooling) produces a greater risk for heart disease than smoking, obesity, lack of exercise, and excessive alcohol consumption combined."
Early HeartSmarts specifically targets children before they enter formal schooling, the article explains, so they can learn the social skills that are so critical to academic and social success.
"The foundations of the competencies required for both academic and social success are developed in a child's early years of development and are directly related to their ability to self-regulate," the article relates, citing separate works by K.H. Rubin and L. Rose-Krasnor, and V.B. Van Hasselt and M. Herson. "In essence, social competence is the ability to get along with others in a constructive manner and to build and maintain positive relationships with others. Young children who demonstrate this ability are more likely to have positive developmental outcomes, including higher intelligence quotient scores, positive self-worth, and better mental health."
Using emWave® Technology for Children With ADHD – An Evidence-Based Intervention
HeartMath's emWave technology, this guide explains, is being used by a wide range of individuals and age groups to assist in lowering stress, self-regulate emotions, increase energy, create and sustain resilience, improve mental abilities and health and for other benefits. Among those for whom emWave has proved beneficial are children with attention deficit/hyperactivity disorder, or ADHD.
"Over the last few years," the guide says, "there has been a surge of interest in the emWave technology for children, ages 7 to 18, diagnosed with ADHD. Both parents and educators are drawn to this technology because it helps children reduce stress and improve impulse control.
"With the current push to improve academic performance and test scores in school environments and the oft-cited behavioral and learning challenges many ADHD children experience, emWave technology is increasingly being integrated as an important part of a larger package of strategies to help children be more successful in their home and school experiences."
HMI and independent researchers have conducted numerous scientific studies that demonstrated the emWave technology could assist children in learning self-regulation skills and help them form better relationships and academic focus.
"This is especially true for children with ADHD, who know from experience their behavior sometimes get them in trouble," the guide says.
Here are some of the key subjects discussed in the guide:
Best practices for emWave
Practices from clinicians who treat children with ADHD
Summaries of two key studies involving children with ADHD
Science behind emWave technology
Additional resources for professionals
Resources for teaching students with ADHD
Read Using emWave® Technology For Children With ADHD
.