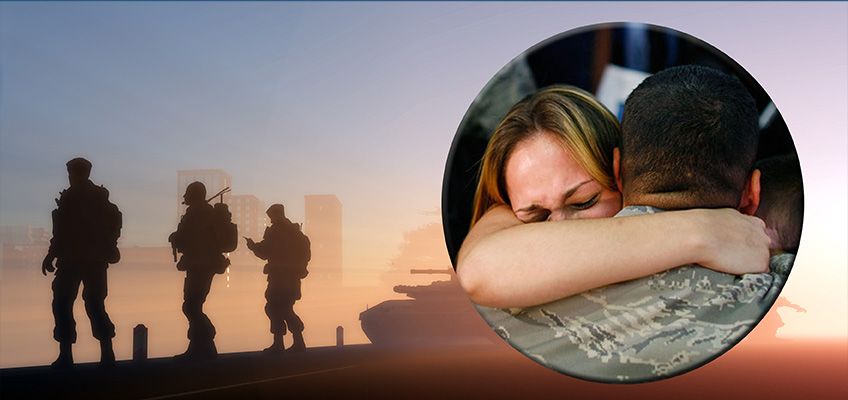 HeartMath Techniques, Technology Aid Military Couple
The physical dangers and mental and emotional stress that the nation's servicemen and women face in Iraq, Afghanistan and other trouble spots are well chronicled daily in the press. The hardships of those they leave behind garner far less attention, though they can be equally stressful and lead to chronic anxiety, depression and other illnesses as well as threaten family stability.
Jolene, whose Marine Corps husband, Daniel, deployed recently to Afghanistan, after previously serving a tour in Iraq, knows how difficult it can be. (The couple's last name is being withheld to protect their privacy.)
"This deployment, it goes weeks before I talk to him," said Jolene, who lives on base in North Carolina and attends college, hoping to one day become a nurse. "And they tell you in the Marine Corps, and I'm sure in other military branches, that no news is good news. And yeah I know, but every time your phone rings, you are like, "Oh No!" … Or the doorbell rings: You are like, "Oh No!"
Jolene, who was interviewed earlier this year, said she usually is able to steel herself against her fears and detach herself when she feels it is necessary.
"But then sometimes it catches up to me," she conceded, "where I get really anxious and nervous, and worried because we talked so much (before Daniel was deployed). Even when I was in California and he was here (in North Carolina), we would talk six, seven times a day. And adjusting to the no-communication — not knowing how he is and not being able to reassure him of things — it's been very hard."
Daniel had a drinking problem that worsened after he entered the military, so they sought professional help from a marriage counselor, who recommended they try some HeartMath techniques, including heart-breathing and the emWave® Technology.
Jolene has had great success with heart-breathing and Daniel took to the handheld emWave2® Personal Stress Reliever.
She said Daniel "absolutely loved it because of the way he felt after, and the fact that it was a little mechanical thing, and it could kind of keep him in check. It was like a game to him. … I have been lagging on that, but I do my heart-breathing every night because if I didn't, I wouldn't be able to sleep. It's to the point now where I'll breathe and then I'll wake up the next day. I'll be doing the heart-breathing and I'm knocked out, and I won't realize it until its morning, you know. So it is working."
The emWave2 is working so well for Daniel that Jolene insists that he keep it close by.
"I told him, 'I don't care if you have to hide that," she said. "You take that with you.' Because of how much it worked for him. I felt like it was just as important as having his gun."
Jolene and Daniel received funding from the Institute HeartMath Institute 's Military Service Appreciation Initiative. The initiative provides grants for HeartMath products, services and training to service members and their families who might not otherwise have access to them.
Many others like Jolene and Daniel are being assisted by the institute, which is committed to helping everyone manage stress, connect with their hearts and add resilience to their lives. HMI expanded its efforts recently on behalf of the nation's service members and their families, including working directly with different branches of the Armed Forces to provide services before, during and after deployment. Click here to learn more.
The emWave technology, which also includes the emWave Pro computer-based stress-relief and emotion self-regulation program, is being utilized at a variety military installations and medical facilities and by health professionals with active-duty service members and veterans. The technology and HeartMath techniques and services are being used successfully with personnel who are experiencing elevated levels of stress, anger and anxiety and reintegration issues, and for symptoms related to trauma, post-traumatic stress syndrome and traumatic brain injury.
Service members and their families who are interested in learning about the assistance available for HeartMath services and technology, may visit the Military Service Appreciation Initiative.
A Press Release, HeartMath Institute Military Service Appreciation Initiative Gives Soldiers Peace of Mind, talks about one of the great tragedies of warfare, the mental and emotional toll that continues far beyond the battlefield.