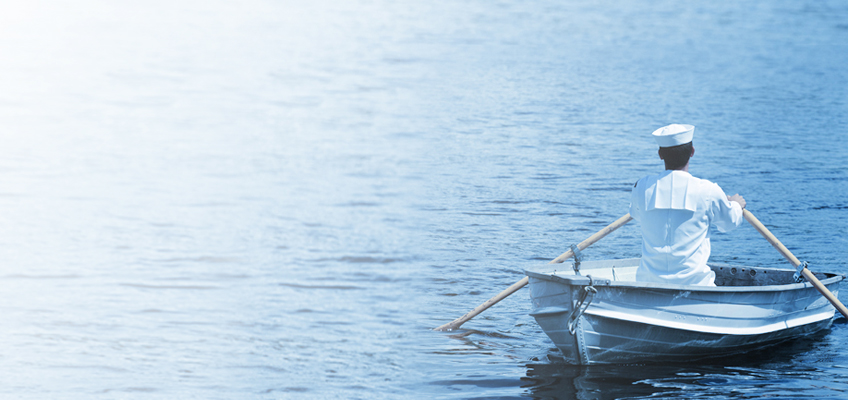 HeartMath is teaching thousands of personnel in the U.S. Armed Forces how to use its science-based tools and technology to self-regulate their emotions and build energy and resilience, whether they are awaiting deployment or are in theater.
One of the most recent examples is Navy personnel who have benefited stateside and in combat zones by participating in HeartMath's Coherence Advantage® training program. The training incorporates the emWave®2 handheld device and the emWave® Desktop computer-based program along with HeartMath's Dual Drive® Pro game. Sailors have been using the emWave technology in conjunction with HeartMath techniques to help them build and sustain their resilience to improve readiness and success in a variety of military duties and operations around the world.
For example, Dr. Rollin McCraty, director of research at the HeartMath Institute, has worked extensively with Capt. Lori Laraway, manager of the Operational Stress Control program for the Navy Expeditionary Combat Command. They have been giving Sailors deploying to Afghanistan Coherence Advantage training. Among HeartMath tools the Sailors have been learning is the Inner Ease® Technique, which utilizes the heart's unique ability to help create a state known as coherence. Coherence is an optimal state marked by smooth, or balanced heart rhythms and the harmonious function of the body's mental, emotional and physical systems.
A Sailor who served a tour of duty in an undisclosed location in Afghanistan talked about what Quick Coherence has meant.
"While the challenges were great and the levels of stress certainly climbed high at times, it was through the use of the Quick Coherence Technique and heart-focused breathing (a part of the technique) that I was able to maintain an optimum performance level and keep things in perspective," the Sailor said. "As I left (one tour) … I went immediately on deployment with an aircraft carrier. The operations and environment may have changed, but the possible impact of stress on my family and me is still a reality. I have continued to use the numerous techniques on a daily basis. I truly believe that this has changed my life both personally and professionally."
Scientific studies have shown that as individuals' levels of coherence increase, so too do energy levels, mental clarity and the ability to perform – under routine or unusual or charged conditions. Coherence Advantage training emphasizes a take-charge attitude in service members. As their adeptness at using the HeartMath tools increases and they are able to shift into coherence on command, confidence levels for successful mission outcomes are enhanced.
Another Sailor who served in Afghanistan said, "I'll bet I do QC (Quick Coherence) at least 10 times a day. My energy levels have gone up considerably and I am easily sleeping eight hours a night. I've also noticed a lot more clarity lately."
A key component of Coherence Advantage training is learning to use the emWave2 handheld and the desktop computer program to monitor personal coherence levels. An important feature of the handheld, which fits into a shirt pocket, is that it is small enough to go anywhere and thus can be used in virtually any situation. The computer-based emWave allows you to watch your heart rhythms and your progress at raising coherence levels on a monitor. Users practice various exercises and play games that can help them improve the quality, or smoothness of their heart rhythms and, ultimately their coherence levels.
Practicing coherence-building techniques and learning to sustain coherence also helps build up your resilience, the capacity and energy to endure when challenging situations and circumstances arise. A healthy supply of resilience is especially important in the charged situations military personnel face in combat zones and hotspots as well as for those serving long tours of duty.
Coherence Advantage stresses to Sailors, that with practice, they absolutely can become proficient at shifting into the coherence state quickly, whether it is before, during or after challenging or adverse situations. That's what one Sailor did one very harrowing night in Afghanistan.
"Last night while performing an escort mission, the situation went bad in a hurry," the Sailor recalled. "Before I could even think, I was hit in the side of the face. Due to being where the (escort) was taking place, the anxiety was already running high. I was using heart breathing to keep calm and levelheaded.
"After the attack and while trying to regain control of the situation, I felt completely at ease. I was a little perturbed at what just happened but didn't let it get to me. After leaving the area and seeking medical attention, I returned to work not feeling any different than when I walked in for the evening formation.
"Using heart breathing and the Freeze Frame® (Technique) really aided me in getting through the situation. … I slept for 8.5 hours, only getting up once to use the restroom. I am a firm believer in using heart breathing even when there isn't a high-stress situation. … I am a completely different person than I was last summer. This program has changed my life completely."
HeartMath is providing, as an adjunct to its Coherence Advantage training, the Leader Mentoring Program. In this program, unit leaders receive mentor training to help reinforce the energy self-regulation and resilience-building skills unit members learn in the Coherence Advantage program. According to Laraway, mentors are responsible for establishing a command climate in which self-regulation and energy management are valued. The daily encouragement and reminders to practice the HeartMath tools that they give to unit members are essential to personal and mission success.
"The Navy supports Coherence Advantage training because it provides tangible tools and skills that can and have improved individual functioning," Laraway said, "because at the end of the day, that's what really matters: Better-functioning Sailors means more effective and successful missions."
Read more about HeartMath's Resilience Advantage Program (formerly the Coherence Advantage Program) and how it is helping the nation's Armed Forces.