MEMBERS
are the heart of HeartMath Institute.
When you join or renew membership between Sept. 23 and Oct. 27, 2020, we will send you a unique gift – a beautiful and informative "little book" created especially for Members: 12 HeartMath Tools for Reducing Stress and Staying Balanced.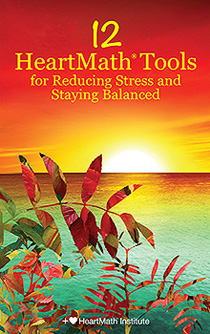 This guide is filled with 12 effective HeartMath tools, taught in classes and seminars around the world, that are helping people connect with and actualize their deeper heart's intentions.
The book is the size of a small paperback, so you can take it with you anywhere. Just choose a topic that resonates with you to practice. Using these tools is an impactful way to practice self-care, along with facilitating family and friends.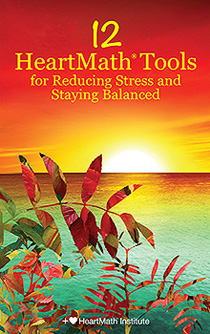 Members Benefits
Member Journey: A series of

20+ insightful

messages filled with tools and techniques to help you reach your next level of mental, emotional and spiritual growth.
Free e-Programs: On your

My Member Page,

you will find over 30 downloadable

e-booklets,

scientific papers, audio files and more offering tools, techniques and encouragement.
Access to over 40 free webinars that will help you connect more deeply with your personal heart's guidance for more joy, balance and

self-security

through these changing times.
Special product discounts, two times per year, on all items in our store and timely,

featured-product discounts.

A sense of knowing you are connected with

like-minded

people who are striving for the greater good of humanity

and the planet.
Your Personal Member Page
The e-Books, webinars, scientific papers, music you can download here are carefully selected to help you add balance to your life and connect with your own and others' hearts.
Enjoy your own personal place within the HeartMath Community. Go to My Member Page.
Member Resources
Members have unlimited access to an array of practical, easy-to-use and free resources.
HMI Member's

Webinar Library

Learn to recognize and manage stress while experiencing greater balance, ease and peace in your life and expanding your intuition with HeartMath's science-based life-enhancing tools. Click here.

HMI Member's

e-Programs Library

HeartMath's e-Books contain techniques to guide you, scientific papers to stimulate your heart and mind and many educational materials to help you perform better. Click here.

HMI Member's

Audio Library

Listen to heart-based MP3 music like Quiet Joy to relax your mind and spirit and audio files of popular HMI e-Books. Click here.
emWave Products
–


Making the Right Choice
Mobile for iPhone, iPad & iPod Touch
Single User
No computer displays,

Standalone app with sensor