The HeartMath Experience
Ease Stress Overload and Increase Your Resilience
Receive FREE Access
The HeartMath Experience was released in November 2019, before the coronavirus outbreak. However, this interactive program is especially appropriate during these times for maintaining emotional balance, mental clarity and sustaining resilience. The content is uplifting and provides scientifically validated tools for managing stress and anxiety – which we need now more than ever.
The program also provides techniques for connecting with your heart's intuitive directions for the best choices in whatever your life situation calls for. You will learn how love, kindness and compassion help improve our immune system, health and self-security. We sincerely feel these practical tools can be valuable in helping you navigate through these unpredictable and challenging times with more ease and clarity.
We hold you in our hearts surrounded with Light and Love.
Watch Intro Video!
Learn from an inspiring experiential program that offers new insights and practical techniques to help you respond to day-to-day challenges with more ease and composure
Studies show that practicing HeartMath tools can lead to better reaction times, improved sleeping habits, revitalized energy, a stronger immune system, and so much more.
Experience these proven benefits for yourself
---
Hear from experts and master trainers.
Experience 5 scientifically validated HeartMath techniques for activating your heart power and intelligence.
Learn to move from depletion to renewal – from stress to ease – to become who you truly are.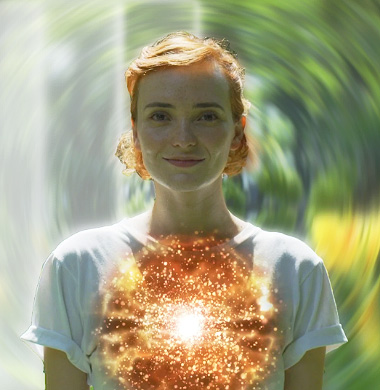 Sign-up now to access your FREE
HeartMath Experience video course.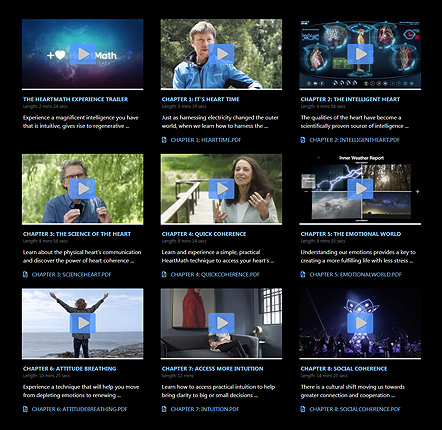 Access is provided

at no charge.
In addition, you will receive HMI news, updates on the latest scientific research and more.
Much as electricity changed the outer world, learning to harness the power and intelligence of the heart will change our inner world.
Included in The HeartMath Experience
9 chapters with over 90 minutes of compelling content.
Downloadable PDFs with chapter summaries and technique steps.
Technique review videos for easy learning.
A special bonus chapter on the Inner Balance coherence-building technology to enhance your practice.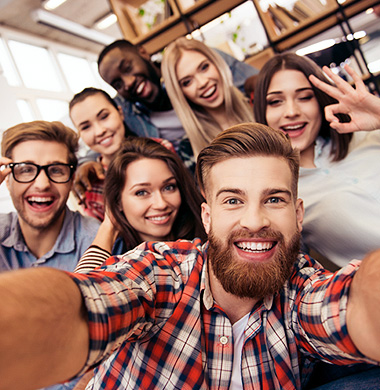 Based on 32 years of research, resulting in over 300 independent peer-reviewed published studies.
Chapter
Summaries
Chapter 1: It's Heart Time

Just as harnessing electricity changed the outer world, when we learn how to harness the true power and intelligence of the heart, everything will change about how we think and feel, and how we relate to one another. Hear how a new understanding of "heart" is emerging and is so needed during this important time in history.

Chapter 2: The Intelligent Heart

The qualities of the heart have become a scientifically proven source of intelligence. New science is mapping the influence of the heart on the brain and body and how the heart communicates an amazingly wide spectrum of information from health and wellness functions to higher qualities like wisdom and compassion.

Chapter 3: The Science of the Heart

Learn about the physical heart's communication and discover the power of heart coherence, an optimal state where your heart, brain and body align to create transformative outcomes.

Chapter 4: Quick Coherence

Learn and experience a simple, practical HeartMath technique to access your heart's intelligence, energize your system and restore balance.

Chapter 5: The Emotional World

Understanding our emotions provides a key to creating a more fulfilling life with less stress. Experience the Inner Weather Report exercise to gain important insights about your everyday emotional patterns and choices.

Chapter 6: Attitude Breathing

Experience a technique that will help you move from depleting emotions to renewing emotions – from old life to new life.

Chapter 7: Access More Intuition

Learn how to access practical intuition to help bring clarity to big or small decisions. Experience a technique for building your connection to intuitive, heart-based intelligence.

Chapter 8: Social Coherence

There is a cultural shift moving us towards greater connection and cooperation. Learn about the science of social coherence and experience an important technique you can use for deepening your own heart connection; learn how you can contribute to creating a more heart-connected world.

Chapter 9: Global Coherence

As a global society, we have opportunities for a significant shift in human consciousness through heart-based living. Learn what this means and how science is showing that we're all energetically connected with each other and the Earth.

Bonus Chapter: The Inner Balance Experience

An introduction to the Inner Balance and Global Coherence apps and sensor that provides real-time coherence scores that you can use to train yourself to access more and more heart coherence.
Experience a magnificent intelligence you have – that is intuitive, gives rise to an uplifting emotional experience, and provides the self-security needed to live a more rewarding life.