The Coherent Classroom Project
The Coherent Classroom project is a fun initiative designed to establish a weekly classroom, or at-home practice, of building coherence in just 3 to 5 minutes. Participants choose an area of focus that needs heart – it can be personal, classroom-related, or within the global community. The class practices Heart-Focused Breathing™ and 'sends heart' to what they choose.
Hear from early adopters… watch video.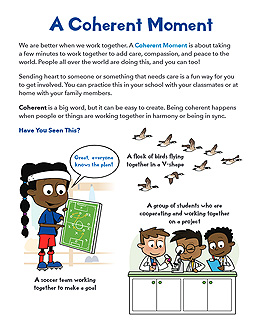 A Coherent Moment Worksheet
The Coherent Moment worksheet graphically explains what coherence means, gives examples of what students send heart to, and includes how to do it using the Heart-Focused Breathing tool. It also includes a fun challenge for children called Coherence in Action.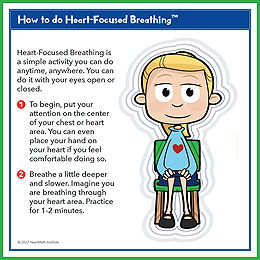 Heart-Focused Breathing
Focus your attention in the area of the heart. Imagine your breath is flowing in and out of your heart or chest area, breathing a little slower and deeper than usual. Find an easy rhythm that's comfortable. (In the beginning, placing your hand over your heart as you breathe can help you direct your focus to your heart.)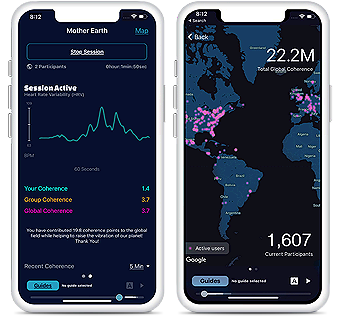 A Global Network of Classrooms
Children experience that they too can contribute positively to the world. Through the practice of Heart-Focused Breathing, they too can help create a more caring and compassionate world. Some classrooms and homes use the Global Coherence App to connect in the heart with people around the world. When children see pink dots on the app's map showing other users, it inspires them. It makes them feel connected to something bigger than themselves.
Classrooms, schools, or school districts can create their own private groups where they can measure their individual coherence and see the coherence contribution of their group. (The Global Coherence App is free and can be used with or without a sensor, and for a limited time, you can try the free camera sensor.)
Sign-Up for News,
Free Resources and More
Sign-up to receive news, free resources and new offerings for children, parents and teachers.