The Sunshine Secret Story Book
As featured in The Sunshine Secret™ Interactive
e-Learning

Program

(Ages 3-7)
A delightful animated story lies at the center of the new Sunshine Secret Interactive e-Learning program.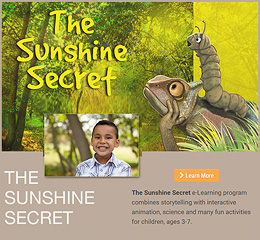 The tale follows Leon the chameleon and Gloria the glow worm on a captivating adventure in which they discover the secrets to glowing green. Woven into the story are key learning outcomes that increase children's emotional intelligence and their ability to self-regulate and help them better understand the transformational power of the heart.
"Calming and educational," writes Myste from Canada. "My daughter LOVED the story! She learned a lot about 'emotional feelings' that she 'doesn't like to talk to me about'. She's 7."
Click here to learn more about The Sunshine Secret e-Learning Program (Ages 3-7).
---
SubscriberSign Up to Watch
Sign up for FREE below and you'll receive access to all of our free Subscriber downloads. In addition, you will receive HMI news, updates on the latest scientific research and more.