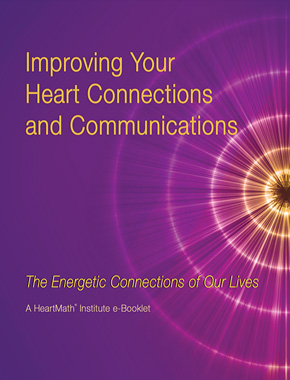 Free Versions Available:
PDF (Printable)
ePub (Smartphone, iPad, Nook)
Mobi

– Coming Soon!
Improving Your Heart Connections and Communications
The Energetic Connections of Our Lives
By HeartMath Institute®
Member
Subscriber
All Users
You will find within this e-Booklet some key HeartMath research findings and conclusions related to heart connection and communication.
It also contains step-by-step instructions for several easy-to-learn HeartMath tools to help you improve your relationship with your own heart and the hearts of others. These tools will help you reach new levels of coherence.
When an individual is in a state of heart coherence, we experience more balance and cooperation between our heart, mind and emotions. This uplifting, coherent energy radiates a positive electromagnetic frequency into the energy field around us. Scientific studies will show that we can detect the information in the energy fields radiated by others and our pets. Magnetic fields can influence our world, but we have the heart power to change our personal, social, and even planetary energy fields for the better.
We invite you to share this e-Book with others.
Sign up below to download Improving Your Heart Connections and Communications
In addition, you will receive access to all of our free Subscriber downloads, HMI news, updates on the latest scientific research and more.