The Sunshine Secret
The fun way children learn about their emotions
(for kids ages 3-6)
Sunshine Secret is a highly interactive program that uses technology to engage children on multiple levels to teach them how to recognize, self-regulate and control their emotions.
Every parent and teacher knows that young children love to engage all of their senses no matter what they are doing. HeartMath took that into account in developing the new Sunshine Secret e-Learning Program for children ages 3-6.
Let our new video show you how
eLearning is fun & engaging!
Single User Price: $9.95
"A great kid's game!"
Interactive Activities
Keep Children's Attention!
Featuring a variety of interactive activities that are as fun as they are educational, this innovative program gently challenges children. It teaches them important social-emotional skills that will benefit them throughout their childhood, schooling and into adulthood.
So Easy to Use…
Sunshine Secret is child friendly, so once an adult logs in, even young children can easily navigate the program themselves.

As children travel through the story of Gloria the glowworm and Leon the Chameleon's delightful world, they can complete support activities specifically designed to achieve positive emotional outcomes.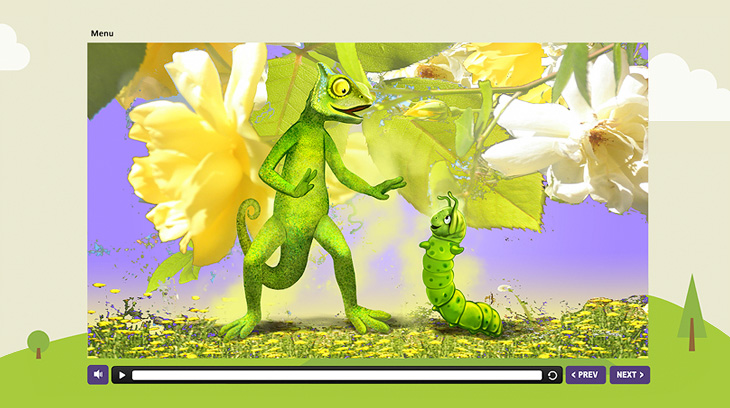 Among these are putting together virtual puzzles, coloring exercises with the Sunshine Secret story's characters and learning emotion vocabulary words.
Hours of Learning and
High Re-usability…
Children love practicing the easy-to-learn Heart Shine self-regulation tool. It teaches them how to replace negative emotions such anger or hurt with positive ones like understanding, compassion and hope. Heart Shine is a wonderful way for children to learn that relying on their natural uplifting qualities of the heart can guide them through any situation.
Other interactive activities include:
Identifying and matching emotion faces of children to emotion faces of

Leon and Gloria.

Promoting positive attitudes and feelings with the Appreciation Board.
Singing along with three wonderful songs to reinforce key program

concepts and skills.

Animated videos with fun,

age-appropriate

science content, including a frog's life cycle,

the sun and more.

Heart-Breathing Pacer, practice a

self-guided

technique while using a simple tool that helps

regulate their breathing.
Pricing
Type of License
Number of Users
Price
Purchase
Family
1-3 children
$9.95
Buy
Classroom
1-30 in 1 Classroom
$39.95
Buy
Multi-Class
Up to 3 Classrooms of

up to 30 each

$99.95
Buy
Site
Up to 8 Classrooms of

up to 30 each

$249.00
Buy
For questions, including information about purchasing the program for more than 240 students, please contact HeartMath Institute by e-mail at bkabaker@heartmath.org, or call toll-free at (800) 711-6221 or (821) 338-8501.
Parent and Teacher Guides
Come with the Program
Sunshine Secret has easy-to-follow on-screen visual and audio instructions, separate Parent Guide and Educator Guide and many other support resources. Children receive a certificate of completion after finishing the program.
The Sunshine Secret is an investment in

your child's EQ.
A lot has been written about the importance of emotional intelligence (EQ), and it undoubtedly makes a difference in a child's connection to their teachers, mentors, and peers as they journey through their eductional track. The Sunshine Secret acquaints children with the importance of their emotional toolkit and how they can use it. It also helps ease and elevate the interactions with their siblings and parents, too!