Financial Report / 990 Form
The generosity of HeartMath Institute's supporters is critical to its success. The work we do every day to educate people about living life from the heart and making a deeper connection with each other is directly tied to that support.
Our Caring Initiatives and sponsorship funds are helping to ensure the mental, emotional and physical well-being of students, teachers, veterans, community services and programs among others. HMI's research and studies not only improve people's quality of life, but also contribute valuable insights to the scientific community.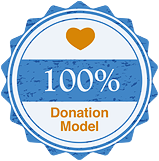 Did you know 100 percent of the contributions revenue the HeartMath Institute receives goes directly toward programs and research projects? Licensing and sales cover administration and fundraising costs so 100 percent of your donation supports projects to help people. HeartMath's contributions come from individuals, foundations, other nonprofits, corporations and a wide variety of public and private institutions and organizations.
The caring and hopeful spirit of contributors like you is present every time HeartMath touches someone's life. We truly appreciate your generosity.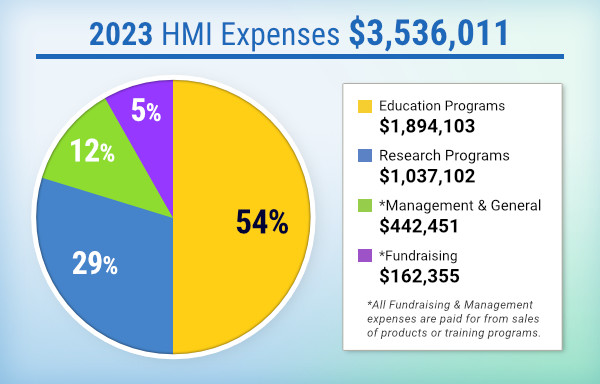 2017 HMI Expenses $2,390,783
Education Programs $1,346,719
Research Programs $671,553
*Management/General $293,798
*Fundraising $78,713
* All Fundraising & Management expenses are paid for from sales of products or training programs.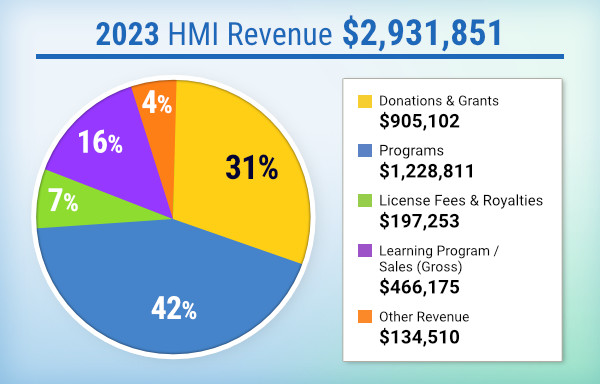 2017 HMI Revenue $2,747,923
Donations & Grants $870,335
Programs $1,140,495
License Fees & Royalties $54,646
Learning Program/Sales (Gross) $562,897
Other Revenue $119,550
If you would like a detailed look at the institute's 2017 revenue and expenses, please view the HMI 990 nonprofit statement at Guidestar website. Simply complete the free registration on that site to view this document.
HeartMath Institute Annual Report
We invite you to review HMI's activities and financial performance during the previous year.
We greatly appreciate the caring, compassion and generosity of our supporters, and we want to share how HeartMath Institute is using your contributions to gather vital scientific knowledge, educate people about the intelligence of their hearts and provide transformational programs and services to improve health, performance and well-being.
Take a look at how HMI uses your contributions in Stories We Love to Share.