HeartMath Education And Resilience Training™ (H.E.A.R.T.) DVD Request Form
If you would like to receive the H.E.A.R.T. DVD and Booklet (free for veterans, military personnel or their families), please fill out and submit the form below.You will learn about the following in this five-hour training DVD:
Science of optimal function.
Importance of your heart rhythms.
Your emotional landscape.
Why you need to keep your inner battery charged.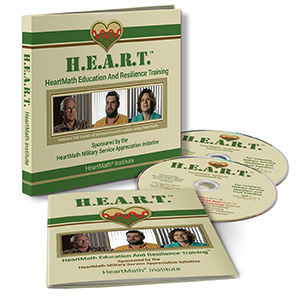 The HeartMath techniques taught in this program will help you to intelligently self-regulate and manage your mental, emotional and physical systems. Step-by-step instructions are included for using the emWave®2 handheld technology to reenergize, refocus and maximize your personal and professional performance.
The booklet tells you how to get the most from the DVD and includes a guide to key concepts used, quick steps for each of the four HeartMath techniques, free resources and information about the HeartMath Military Service Appreciation Initiative and related sponsorships that may be available.
Please email service@heartmath.org with your request for a H.E.A.R.T. DVD and provide us with the following information, or if you prefer please call us (800) 711-6221 toll free. International callers use (831) 338-8500.
Please allow for 4 to 6 weeks for shipping.
Personal Information:
Your First Name
Your Last Name
Your Email Address
DVD Recipient Information:
What branch of service is or was the DVD recipient in?
Is the DVD recipient:
Active Duty
A Veteran
A Spouse of One of the Above.
Is the H.E.A.R.T. DVD recipient:
You
A Friend
A Family Member
Shipping or APO Address
First name
Last name
Shipping Address
City
State
Zip Code
How did you hear about the H.E.A.R.T. Program?
Thank you for request!