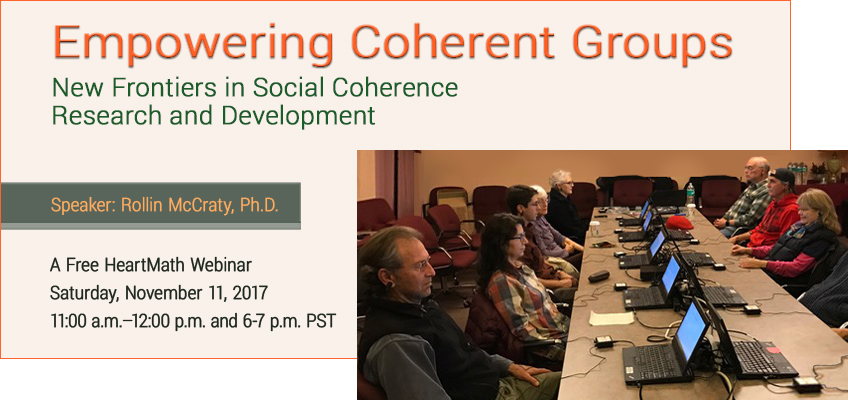 Empowering Coherent Groups: New Frontiers in
Social Coherence Research and Development Webinar
Join Rollin McCraty, Ph.D., Empowering Coherent Groups: New Frontiers in Social Coherence Research and Development on Nov. 11, 2017. In this webinar, McCraty will discuss new techniques and technologies for improving team performance and group harmony.
Anyone who has experienced an exceptional sports team or music concert recognizes that something extraordinary can take place when the group's members are resonating in-sync – past their normal performance levels. When groups are in coherence together, this translates into mental, emotional and physical benefits which lift performance levels into higher states of flow.
Imagine how our world would prosper as individuals and groups increase their coherent connections in more of life's interactions. Increased coherence and social harmony in our classrooms, families, and communities raise our capacity for making higher choices and accessing effective solutions for simple and complex matters. We become more caring and kinder with each other.
Learn how the lack of coherence in our interactions creates a large part of our personal and global stress. With simple practices and technologies we can change this picture.
In this webinar, Dr. McCraty will discuss research suggesting:
An energetic field connects individual group members, which simultaneously distributes information between the group members.
How various types of synchronization increase our care, trust, cooperation and other key prosocial behaviors.
A new heart rate variability system that is in development for measuring group coherence.
A new training program for facilitating team and group coherence.
It is our hope and intention that this new technology and training program will decrease social discord and increase positive emotional connections, kindness, cooperation, and sense of collective purpose.
Empowering Coherent Groups:

New Frontiers in Social Coherence
(A free HeartMath/GCI webinar)
Click a time to register:
When you register for the Empowering Coherent Groups: New Frontiers in Social Coherence Research and Development webinar, you will receive a replay link.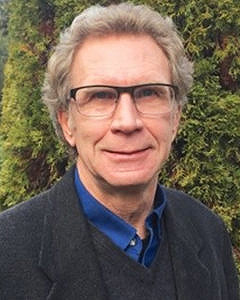 Rollin McCraty, Ph.D., director of scientific research at HeartMath Institute, is a psychophysiologist whose interests include heart rate variability, heart-brain interactions, the intelligence of the human heart and the physiology of emotion. He is widely published in those and other areas of research, including mechanisms by which emotions influence cognitive processes, behavior, health and the global interconnectivity between people and Earth's energetic systems. He has been instrumental in researching and developing the HeartMath System of tools and technology.
Click here for simple instructions to determine the exact time the webinar will take place in your Local Time Zone:
For Select time and place to convert from, choose San Francisco, Calif.
For Select time and place to convert to, choose your country and a city in your time zone.