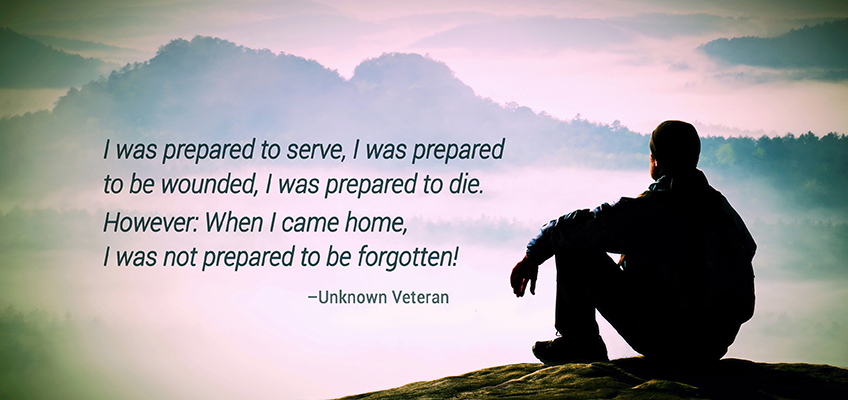 Veteran's Day Appreciation and Compassion
Within our hearts, we hold a profound and enduring care for those who serve our nation in the Armed Forces. Please join us on Veteran's Day, Nov. 11, to honor and appreciate the millions of men and women who have served or continue to serve not only all Americans, but so many of the world's people as well.
Each of us can do this by taking a few minutes to send heart care and appreciation to all veterans, past and present. It is a time for all of us to set aside differences and honor those who have so bravely served and sacrificed.
An Appreciation and Compassion Technique:
Step 1: Heart-Focused Breathing: Focus your attention in the area of your heart. Imagine your breath is flowing in and out of your heart or chest area. Breathe a little slower and deeper than normal.
Step 2: Activate a Positive Feeling: Make a sincere attempt to experience a feeling such as appreciation or care for someone or something in your life.
Step 3: Send Appreciation and Compassion: Send appreciation to veterans and military personnel for keeping us safe. Radiate compassion out from your heart for the sacrifice they and their families have made. Radiate compassion to our veterans that feel forgotten with understanding of what they are going through.
Thank you for your participation in sending a few minutes of heart care and appreciation to all veterans in our world, to those who have served a cause greater than self.
Military Service Appreciation Initiative
With so many of our veterans suffering physical and psychological wounds, HeartMath Institute decided to focus greater research and resources on finding ways to help them cope and recover. HMI also extended its outreach services to those suffering PTSD, traumatic brain injury and other ill effects of war by establishing the Military Service Appreciation Initiative.
HeartMath Institute offers numerous Free Resources for Veterans, Service Members and Their Families.
If you know of a veteran in need of special aid, go to our sponsorship application page.
Thank you for participating in this special effort to care for our veterans.
Please leave a comment of appreciation and care for our veterans.