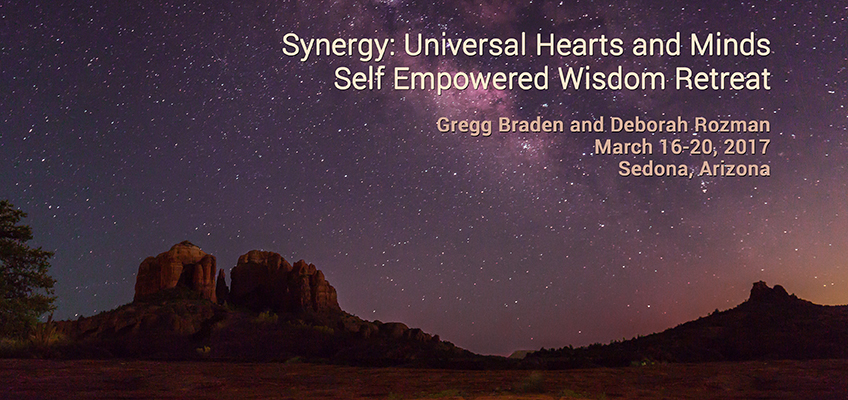 Spend Spring Equinox in the Mystical Red Rocks of Sedona, AZ. March 16-20, 2017.
Join Gregg Braden and HeartMath CEO, Deborah Rozman, PhD, for Synergy: Universal Hearts and Minds Self Empowered Wisdom Retreat, March 16-20, 2017 in Sedona, AZ. Come and unearth the highest expression of yourself as you experience and implement the principles of relationship heart wisdom.
Braden and Rozman will be sharing and exploring research-based information on how to transcend old relationship patterns with yourself, others, your community and the world! While here you will have an opportunity to experience uniqueness of Self Empowered Wisdom, the inner voice, not in words but in the wordless language of the heart and soul.
This program is an in-depth discovery of solutions that give new meaning and new hope for the positive new world that is emerging before our eyes! You'll gain the tools you need to help activate your heart wisdom to help usher in an era of ever-expanding heart intelligence that ensures the world turns on a new heart-centered axis.
Also featured during this exciting weekend is Kelley Alexander JD, Jorge Luis Delgado, Dr. Melaney Sreenan, Sunny Dawn Johnston, Kris Voelker and a delightful concert with Martha Reich Braden!
To enhance your experience, this unique event is being held at the Sedona Creative Life Center, an intimate venue, built on Sacred Land in the heart of the red rocks of Sedona, AZ. Sedona's ancient mystical red rocks offer magical opportunities to experience nature and renew in this powerful energy as you absorb the depth of your own heart's wisdom.
So make your plans now for a heart opening as you join us in Sedona for this amazing event and Spring Equinox 2017.