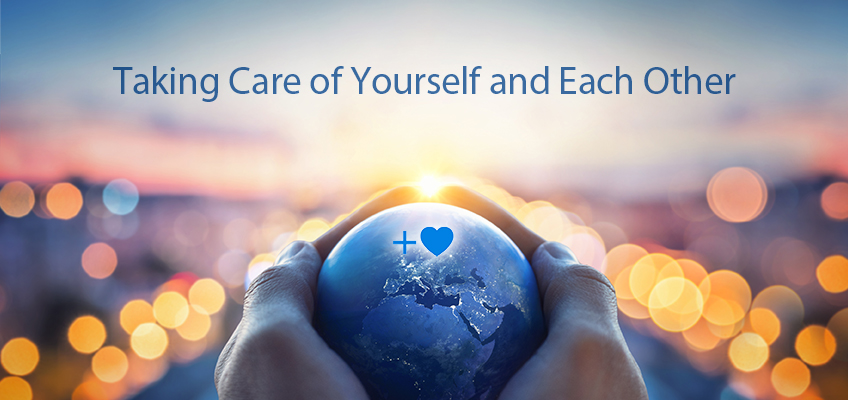 Special Care Focus: Taking Care of Yourself and Each Other
Welcome to the Special Care Focus – Taking Care of Yourself and Each Other. In order for everyone around the world to participate in a synchronized Care Focus, on Wednesday, August 5th, we have chosen three convenient times: 4 a.m., 12:00 p.m. (noon), and 8 p.m. Pacific Time (GMT/UTC minus 7 hours)*. Please join with others on the Global Coherence App. We will do a special care focus every Wednesday until the Coronavirus pandemic subsides. Thank you for joining with us.
Taking Care of Yourself
and Each Other
We won't repeat the latest news on the coronavirus here, as most of us know that while it's declining or under control in many countries, it's spreading faster than ever in other countries. Doctors and nurses are overwhelmed and exhausted, hospitals are running short on ICUs and supplies, and stress levels are high.
Many of us have a hard time with face masks or find ourselves in situations that make it difficult to maintain social distancing. It's understandably challenging when precautions are inconvenient and a lockdown affects jobs and families. Still, it would be helpful for the wholeness if we found it in our hearts to practice safety precautions to help prevent others from getting infected. Shelter at home restrictions and limiting social gatherings exacerbate loneliness, anxiety and depression. A lift in spirit and resilience can be renewed with the practice of radiating love and compassion for a minute or so throughout the day (each time we think of it). Doing this for a week can help significantly. Also, many of you have already experienced the lift that comes from the practice of doing something kind for another.
Research shows when people are really putting out love and compassionate care it benefits their own health and the health of others. In 23 published studies on distance healing, 57% showed statistically significant positive psychological and biological changes associated with improved health, including lowering blood pressure, reducing stress and anxiety, boosting the immune response, enhancing hormonal balance and promoting positive mood states.
Here are other effective actions we can take to care for ourselves and each other.
Before watching the news, take a few minutes to breathe in the feeling of mental and emotional balance to strengthen your composure and stability. Doing this can especially reduce stress from getting over-emotionally identified with the challenges and fears that people are experiencing. There's a difference between feeling balanced care and compassion from extreme emotional reactivity, which has been proven to cause health problems, acute anxiety and loss of resilience.
However, it's smart to back off watching the news for a few days if you're already over-stressed. This will help to rebalance your mental and emotional system and reaccumulate resilience. It's also helpful to find somewhere to walk in nature. Even if you have ongoing worry, nature can provide renewing benefits.
Try to have more conversations about something other than the stressors going on. If you keep rehashing stressful situations in conversation, research has shown this increases neurochemicals that drain your mental and emotional vitality and create incoherence in your discerning process. Sure, it's hard to not talk about some of these issues. Yet, with our heart's intention, we can reduce replaying these looping stress patterns by being more mindful in our conversations. Every effort helps, especially when stress levels are high.
More people are reporting to us that this next exercise helps them more than anything.
Wherever you go, radiate love and care to people and environments – home, workplace, stores, groups, while in nature, etc. Doing this as often as you can for a week or more strengthens your resilience and stability, while helping you rise above or prevent some of the stressors that block clear thinking for higher choices. It takes a little practice to remember to radiate love and care, but it's way worth the time spent. Set up phone or written note reminders. Sometimes you won't feel your heart as much – that's normal as heart energy modulates from time to time. Do the exercise anyway, because it helps anchor it into memory, which is important. This is one of our highest recommendations for stress, well-being and staying emotionally grounded.
More and more people are waking up to the power of love and care as the solution to our personal and societal challenges. Love is a transformational intelligence that raises our vibration to draw in new solutions we haven't thought of yet and multiple benefits. The need for love has been philosophized for eons – now is the time for us to bring it to the street and practice more love and kindness in our interactions and reap the practical and proven benefits.
Care Focus Taking Care of Yourself and Each Other
Take a minute or two to breathe in the feeling of genuine appreciation for someone or something you care about. This helps to activate heart feelings, which increases the effectiveness of the Care Focus intention.
Feel your heart connecting with others across the planet who are sending love and care to help reduce the collective stress and raise the heart vibration of humanity.
While radiating love and care, see people increasingly treating each other with more compassion, kindness and cooperation, and taking safety precautions for themselves and others.
Now let's send sincere appreciation, love and compassion to

front-line

workers, caregivers, and all those helping others through this pandemic. Also send compassionate care and heart warmth to the thousands of people who have lost loved ones through these times.
Let's close by sending our compassionate care to people suffering from the pandemic and the many other societal and global challenges. Ask your heart to direct some of the energy from the Care Focus to any of the challenges or issues that you care about that are close to your heart.
Important Note: With the increase of global stress points each day, more people have been requesting specific Care Focus topics. We sincerely hope you understand that we can't fulfill all these requests, especially if you consider the global reach of it all. However, you can ask your heart to direct some of the Care Focus energy to whatever issues are most important to you. The heart energy goes out and is drawn to those places of need.
Let's remember that it's the deeper connection with our own heart and with the hearts of others that will help draw in intuitive solutions for personal and societal challenges.
Thank you for Caring.
* Learn more about the Global Coherence App, Synchronized Care Focus events and how to download the app.
---
* The following website – https://timeanddate.com/s/33sd – is a time conversion site for determining the exact time the Care Focus will take place in your Local Time Zone.
Select Time: 8 p.m. (date optional).
Convert from: Location: USA – California – San Francisco.
Convert to: Location: (Select your Country/City).
---
Please feel free to share this Special Care Focus with anyone in your life you feel may benefit.
We would love to hear from you!
Please share with us your thoughts, feelings or experiences in the comments below.