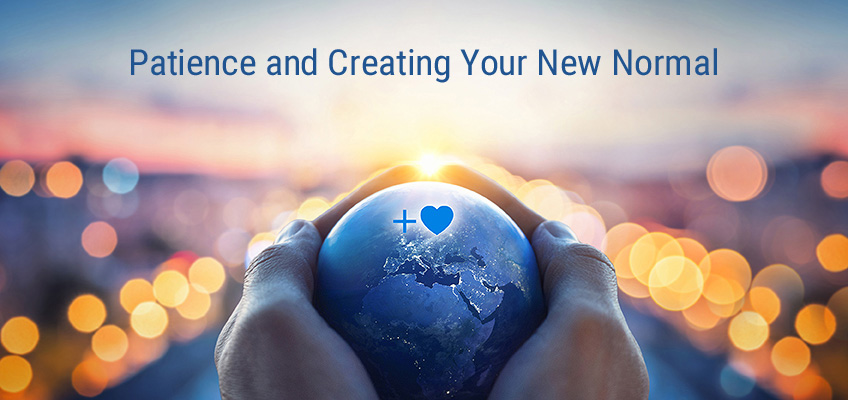 Special Care Focus: Patience and Creating

Your New Normal
Welcome to the Special Care Focus – Patience and Creating Your New Normal. In order for everyone around the world to participate in a synchronized Care Focus, on Wednesday, June 2, we have chosen three convenient times: 4 a.m., 12:00 p.m. (noon), and 8 p.m. Pacific Time (GMT/UTC minus 7 hours)*. Please join with others on the Global Coherence App. We will do a special care focus every Wednesday until the Coronavirus pandemic subsides. Thank you for joining with us.
Let's start with a warmhearted connection to everyone participating in this Care Focus, as this increases the effectiveness of our compassionate care.
Patience and Creating
Your New Normal
Spring energies and re-opening our economies are providing hope that we will emerge from COVID restrictions and create a new normal. However, this is a time for patience as COVID cases are going down in many areas yet surging in others. It's still requiring us to be responsible for caring for ourselves and each other.
As we strive to return to some sense of normal living, it's easy to get caught up in impatient choices while trying to speed things up. Yet impatience often creates a bigger mess and more stress. It's especially important to install patience as one of our most important assets during this transitional time of unpredictable changes.
Impatience is commonly treated as a small item needing only minor attendance, but it is one of the most overlooked mental and emotional disrupters of our resilience and progress. People make high-spirited commitments that turn into chaos when impatience or over-stimulation takes over. Many of us practice patience a few times a year, then our intention usually fades before we anchor it into an effective habit. In today's energetic environment, it's prime time to increase our patience baseline and make it an essential part of our new norm.
Each of us will have many decisions concerning how to reshape our lives and be better prepared for whatever new unexpected challenges may come. Applying patience while moving with inner ease through choices is a powerful practice for staying balanced, increasing resilience, and connecting with clearer decisions as we move forward. The practice of radiating a few minutes of love and compassion while grounding feelings of patience, ease and pause will increase access to our heart's intuitive guidance for deeper discernment and direction. Also, breathing in feelings of patience and inner ease throughout the day can help calm anxiety and erratic emotional energies. Another practice to reduce anxiety is to learn to focus on our larger intentions one segment at time rather than constantly worrying about how the end results will play out.
The above practices can quickly result in less energy drain and reduce fatigue and do-overs, along with helping to calm and decrease anxiety about the future. Any stress we can eliminate will make a lot of difference in our resilience threshold.
Caring for each other is especially important for creating the highest best new normal that we can achieve for ourselves and collective humanity.
Care Focus Patience and Creating
Your New Normal
Focus in the heart and radiate love to someone or something you care about – a person, a pet, nature, etc. This helps to warm our heart which increases the effectiveness of the care focus. (Doing this also helps to increase harmony in our

day-to-day

interactions

with each other.)

From your genuine heart, breathe in the feeling of inner ease as you connect with others across the world who are radiating love and compassionate care into the energetic field. (Breathing the feeling of inner ease helps to clear mind static that can interrupt our focused intention.)
Now let's radiate our collective love and compassionate care to all on the planet who are experiencing suffering, hardships, and lack of hope.
On a personal level, let's make a commitment to practice patience throughout the day. As soon as you sense impatience, irritation, or anxiety, reset your system by breathing in feelings of patience and inner ease. Once you regain emotional poise, do this a while longer to help anchor these feelings in your system. Practicing patience helps clear the way for your heart's intuitive suggestions concerning issues that matter to you.
Let's close by also making a commitment to practice compassionate latitude for each other through the pressures of these transitional times. Recognize the importance of adding love and kindness to the new normal we are

co-creating

together. Many sense that our heart's care has been the missing piece that can make the difference in learning to get along with each other and thrive. We can make a difference now by individually opening our hearts and releasing the love of who we truly are.
Important Note: With the increase of global stress issues each day, more people have been requesting specific Care Focus topics. We sincerely hope you understand that we can't fulfill all these requests, especially if you consider the global reach of it all. However, remember you can always ask your heart to direct some of the collective energy of each Care Focus to whatever issues are most important to you.
Let's realize that it's the deeper connection with our own heart and with the hearts of others that will help draw new intuitive solutions for personal, social, and global challenges.
Thank you for Caring.
* The following website – https://timeanddate.com/s/33sd – is a time conversion site for determining the exact time the Care Focus will take place in your Local Time Zone.
Select Time: 8 p.m. (date optional).
Convert from: Location: USA – California – San Francisco.
Convert to: Location: (Select your Country/City).
---
* Learn more about the Global Coherence App, Synchronized Care Focus events and how to download the app.
---
Please feel free to share this Special Care Focus with anyone in your life you feel may benefit.
We would love to hear from you!
Please share with us your thoughts, feelings or experiences in the comments below.