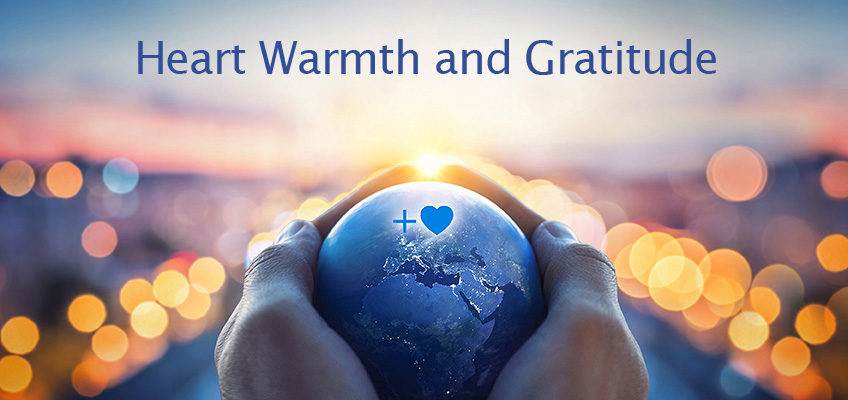 Special Care Focus:
Heart Warmth and Gratitude
Special Care Focus – Heart Warmth and Gratitude for the World Sound Healing Day on February 14, 2023. Participate any time on Tuesday February. 14, 2023 or participate in a synchronized Care Focus, we have chosen three convenient times: 4 a.m., 12:00 p.m. (noon), and 8 p.m. Pacific Time (GMT/UTC minus 8 hours)*. Please join with others on the Global Coherence App for the Feb. 14, 2023 for the World Sound Healing Day special care focus.
Let's start with a warmhearted appreciation for everyone participating in this Care Focus, as this increases the effectiveness of our compassionate care.
Heart Warmth and Gratitude
Gratitude and appreciation count more than ever right now. Even with all the stressors and challenges going on, a powerful way to lift our spirit at any time is by sincerely appreciating ourselves, a loved one, a pet, or even a cherished place or memory that re-establishes a connection to our heart. The greater our capacity for genuine appreciation, the deeper the connection to our heart – which is where intuitive guidance, inspiration and new possibilities emerge.
An October 2022 Harris Poll conducted by the American Psychological Association found that most Americans are struggling with multiple external stressors, and 27% of adults say that most days they're so stressed they cannot function. More than three-quarters (76%) say the future of the nation is a significant source of stress in their lives.
It's time to realize that heart warmth and gratitude aren't just nice to give to others; they also improve our outlook on life. Humanity is evolving past pilot-light care (low heart warmth), which only produces surface-level interactions that are missing the regenerative benefits of authentic connections. Telling someone from your genuine heart feelings, "It's good to see you," – is really saying, "I appreciate seeing you." It's the heart energy that generates the warmth and lift. Love does that. That's what the shift we are experiencing is about. It's time for love to have a go of it! We've tried it the other way, and here we are.
Researchers around the world have been studying the "Helper's High" that comes from giving gratitude. When we do something authentic and meaningful for others, it opens our heart and provides us with uplift, spirit renewal and health benefits.
HeartMath Institute has been among the leaders in researching the physiological benefits of appreciation and gratitude. When we sincerely feel gratitude or appreciation for family, friends, nature, or the convenient things in life, a profound change occurs in our heart rhythms. They become more synchronized and coherent, which increases the mental clarity, resilience and well-being needed for discernment and better choices, especially in today's global temperament.
Researchers have also found that gratitude causes a synchronized activation in multiple brain regions and lights up parts of the brain's reward pathways. Gratitude can boost endorphins that produce a natural euphoric rush can boost oxytocin – the love or bonding hormone – where you feel more warmhearted connections with others; it can boost the neurotransmitter serotonin that makes you feel happy and calm; and it activates the brain stem to produce dopamine, which helps you feel pleasure. Gratitude has also been shown to boost immune system functions, as well as lower stress and lower blood pressure. These are a lot of benefits to be gained from a simple process of giving gratitude, yet we have to step into it and do it.
Let's celebrate raising the vibration for World Sound Healing Day by giving ourselves and others the gift of heart warmth and gratitude. And let's have compassionate care for all those living with overwhelming stress or whose hearts are shut down, knowing that most people are doing the best they know how in these unpredictable times.
Care Focus
Heart Warmth and Gratitude
Focus your attention in the area of your heart. Imagine your breath is flowing in and out of your heart or chest area. As you breathe in, charge the energy of your breath with genuine heartfelt love. Then radiate this love out in the form of genuine gratitude.

(Doing this raises the vibration of your spirit and helps to bring heart, mind, emotions and body into calm, coherent alignment and focus). Know that your feelings in meditations or while radiating love are going to be stronger and weaker at different times through the month. This is natural. Don't judge yourself when your energy varies. It's normal; it's okay. Just have a genuine attitude when your energy is low and know that your love still counts.)

Now, radiate gratitude to all people who are helping to reduce suffering and giving comfort as they can to others in need.
Next, imagine more and more people awakening to the powerful benefits of radiating gratitude and compassionate care for lifting their spirit and connecting with their heart.
Let's close by radiating compassionate care to all who are living in survival mode and suffering from war, natural disasters, hunger, abuse, fear, or hopelessness. Know that even when things look bleak, radiating our individual and collective care and compassion is making a significant difference.
We can't change the world picture overnight, but our heart warmth, gratitude and compassion can add proven effective benefits, and more that we don't understand yet.
Thank you for Caring.
---
The following website – https://timeanddate.com/s/33sd – is a time conversion site for determining the exact time the Care Focus will take place in your Local Time Zone.

Select Time: 8 p.m. (date optional).
Convert from: Location: USA – California – San Francisco.
Convert to: Location: (Select your Country/City).
---
Learn more about the Global Coherence App, Synchronized Care Focus events and to how to download the app.
---
Please feel free to share this Special Care Focus with anyone in your life you feel may benefit.
We would love to hear from you!
Please share with us your thoughts, feelings or experiences in the comments below.