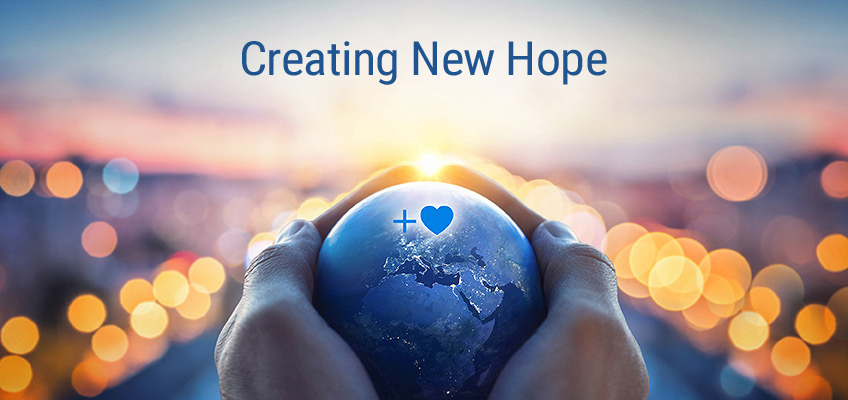 Special Care Focus:
Creating New Hope
Welcome to the Special Care Focus – Creating New Hope. In order for everyone around the world to participate in a synchronized Care Focus, on Wednesday, November 24, 2021, we have chosen three convenient times: 4 a.m., 12:00 p.m. (noon), and 8 p.m. Pacific Time (GMT/UTC minus 7 hours)*. Thank you for being with us.
Let's start with a warmhearted connection to everyone participating in this Care Focus, as this increases the effectiveness of our compassionate care.
Creating New Hope
These times are lit with positive opportunity, regardless of how it can appear throughout the planet. Life has presented us with an important time for opening our hearts and being more understanding of each other's feelings and mistakes, realizing that people are being stretched past their ability to think clearly, which makes them short-fused and hyper-reactive. Generally speaking, people are doing the best they can, depending on the pressures of their personal challenges and situations.
It's in our power to open our hearts more to each other with compassionate latitude and deeper care in our interactions. As more of us commit to practicing kindness and cooperation, while reducing judgments and separation, this lifts the collective spirit – which strengthens the connection with our heart's intuition for solutions to personal and collective challenges.
We can do much more than we may think to create more coherent flow in our lives. More of us are realizing that we can't sit around and just wait for something to get better in order to feel okay. Challenges obviously tax our energy but it's our free-to-roam mind and emotions that multiply our stress, drain our resilience, and disable our (much needed) reasoning capacity. This leaves us with anxiety, confusion and low energy. However, as we learn to increase deeper care and compassion in our interactions, this will do a lot to reduce and eliminate these predictable outcomes. There are more simple things we can do to reduce our stress and feel significantly better, even if we can't change or undo some of life's situations.
Here are a couple exercises that can help to reduce anxiety and increase clear thinking while sorting out life's important choices and decisions.
When you want to feel better: Pick a heart feeling such as appreciation, kindness, compassion for others, etc. For example – if you pick appreciation, take a few quiet minutes and as you consciously breathe, use your imagination to create the genuine feeling of appreciation for someone. Another example – If you pick compassion, as you breathe, intentionally feel compassionate care for someone as sincerely as you can. It's the true feeling from the heart that lifts the vibration of your spirit. Doing this for a few minutes helps to increase your resilience and release stress for clearer thinking.
When discerning choices: As you breathe, quietly focus your imagination on drawing the feelings of ease and calm into your mental and emotional nature. Do this for a while until you feel yourself slowing down and feeling calmer on the inside. This exercise has been proven to help slow down the erratic processing of the mind and emotions. Then it's easier to sense clearer suggestions and inner guidance for effective choices and decisions. Don't let your mind rush the process – stay steady from your genuine heart.
Dealing with Impatience: Do the same exercise but breathe in the feeling of patience to replace impatience. Create the feeling of patience with your imagination after you first calm your mind and emotions. Be genuine, as this brings in the power of your heart. What's interesting is that many people think impatience is just a small irritation. Know that impatience is one of the biggest stealth energy drains because it triggers multiple stress-producers, such as frustration, anger, strong negative reactions, harsh judgments, blame, and health problems eventually in some cases. With your heart's commitment you change the habit of impatience and significantly reduce your stress deficit.*
You can see results quickly doing these self-care exercises. When we genuinely commit to care in action for ourselves and others, then new hope comes with the package. As we become more compassionate, more forgiving, and more eager to put the past behind us, this becomes a foundation for getting along with each other and creating a future where we all can thrive. Let's make this a theme through the holidays and into the new year.
Care Focus Creating New Hope
Center yourself in the heart and breathe the feeling of appreciation for a minute or two. Appreciation warms our heart and raises our vibration for more effective meditations and

day-to-day

interactions.
Now radiate heart feelings of genuine care and compassion into the energetic field environment. Experience these feelings sincerely within your own heart to strengthen your care focus practice.
Let's radiate our collective compassion and gratitude to caregivers who have had to sacrifice their safety throughout the pandemic so that others could live. See people not fading on the outpouring of appreciation to them, because it provides a true supportive energy that can make a lot of difference in their resilience and capacity to sustain.
See people throughout the world exploring the benefits of forgiveness and the release of stress and anguish this would bring on a personal and collective level. See more people opening their hearts to the need for compassionate latitude in their interactions. This increases the hope for people getting along with each other and creating solutions together for the benefit of all.
Let's close by radiating our compassionate care to all who are suffering hardships, trauma, or sadness during these present global challenges.
Thank you for Caring.
There are more free tools in the

e-Book

, 12 HeartMath® Tools for Reducing Stress and Staying Balanced, downloadable in PDF, ePub and Mobi formats. Click here.

"Sweeping research suggests the future is bright and we are rethinking, resetting and reimagining our futures for the better. Hope and optimism are increasing, connections with friends and family are strengthening and we are re-prioritizing toward what matters to us most."

Read the full article, A Study Shows New Priorities For Compassion, Community And Career—And A Bright Future by Tracy Brower, Forbes Magazine.
---
The following website – https://timeanddate.com/s/33sd – is a time conversion site for determining the exact time the Care Focus will take place in your Local Time Zone.

Select Time: 8 p.m. (date optional).
Convert from: Location: USA – California – San Francisco.
Convert to: Location: (Select your Country/City).
---
Learn more about the Global Coherence App, Synchronized Care Focus events and to how to download the app.
---
Please feel free to share this Special Care Focus with anyone in your life you feel may benefit.
We would love to hear from you!
Please share with us your thoughts, feelings or experiences in the comments below.