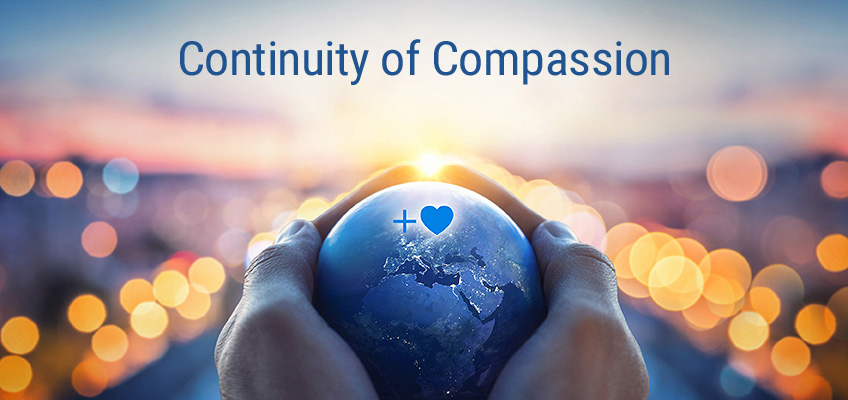 Special Care Focus:

Continuity of Compassion
Welcome to the Special Care Focus – Continuity of Compassion. In order for everyone around the world to participate in a synchronized Care Focus, on Wednesday, July 27, 2022, we have chosen three convenient times: 4 a.m., 12:00 p.m. (noon), and 8 p.m. Pacific Time (GMT/UTC minus 7 hours)*. Please join with others on the Global Coherence App. We will do a special care focus every Wednesday until the Ukraine and Russia war subsides. Thank you for being with us.
Let's start with a warmhearted connection to everyone participating in this Care Focus, as this increases the effectiveness of our compassionate care.
Continuity of Compassion
As the war in Ukraine continues, we see brutality and suffering on the news each day. Many cities have been destroyed, civilian casualties are mounting, people are not allowed to leave, and East Ukraine is being overrun by Russia. Countries in Europe and throughout the world are extremely anxious about what may happen if the war escalates. Collective humanity is feeling the impact of stress coming from many directions – political, economic, supply chain, etc.
Many people feel in their heart that one of the most effective things we can do is to continue sending our deepest compassion to all who are affected by the war. Frequently what happens in crisis situations is there is an initial outpouring of compassion. Then in time, the compassion unintentionally starts to fade in the face of despair, hopelessness, or personal fear as the impact of war spreads through the global community.
It's important for our wellbeing to occasionally take a time out somewhere and breathe the feelings of balance and calm from your spirit for a while. As you do this, envision the renewal of your mental, emotional, and physical nature. Doing this from the heart as you breathe can help restore resilience and clarity for managing stress and uncertainty.
Let's remember to keep rebooting our compassion for people suffering, for each other, and for ourselves. Do this as often as you can, according to your life's circumstances. It's important to keep a continuity of collective compassion going out, even if we can't always see the ways that it would help.
Care Focus
Continuity of Compassion
Start with quiet breathing while radiating feelings of love and care for someone, a pet, nature, etc. This helps open and warm the heart which increases the effectiveness of the Care Focus.
Now, let's send our deepest compassionate care to people directly affected by the

Russia-Ukraine

war. This includes the people of Ukraine, soldiers and refugees, the people and countries taking in millions of refugees, and the many people in Russia and throughout the world who are saddened with pain in their hearts regarding the war.
Now let's send heart that those who support the war might open their hearts to the pain the war is causing and realize the setback it is inflicting on nations along with fueling the potential of global war.
See our deep heart's care and compassion contributing to a continuity of collective compassion and a global heart awakening that's happening as a result of this war.
Let's envision that humanity will realize that war is a thing of the past and that we need to come together in the heart to work things out through care, kindness, and a deeper understanding of each other's points of view.
Let's close by sending compassionate care and energetic support to ourselves as we deal with the many disruptive issues and beliefs that are dividing people within our own countries.
It is effective to continue doing this Care Focus or individual steps of it after the full moon period, if convenient. The planet is calling for continuity of collective compassion going out to all people affected by this war.
Thank you for Caring.
---
The following website – https://timeanddate.com/s/33sd – is a time conversion site for determining the exact time the Care Focus will take place in your Local Time Zone.

Select Time: 8 p.m. (date optional).
Convert from: Location: USA – California – San Francisco.
Convert to: Location: (Select your Country/City).
---
Learn more about the Global Coherence App, Synchronized Care Focus events and to how to download the app.
---
Please feel free to share this Special Care Focus with anyone in your life you feel may benefit.
We would love to hear from you!
Please share with us your thoughts, feelings or experiences in the comments below.