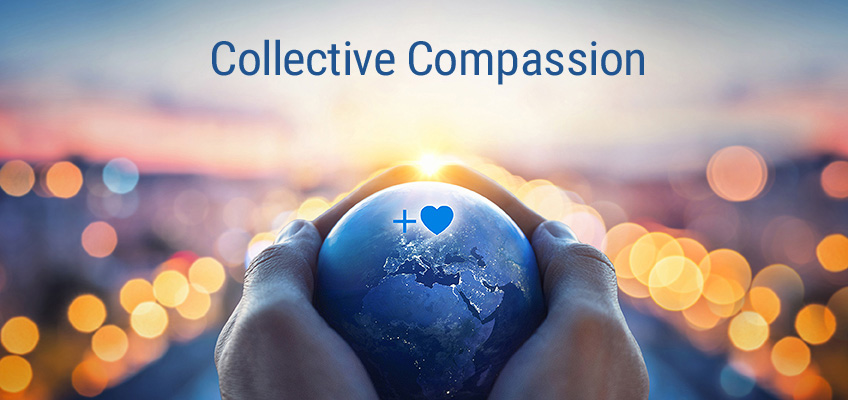 Special Care Focus:
Collective Compassion
Welcome to the Special Care Focus – Collective Compassion. In order for everyone around the world to participate in a synchronized Care Focus, on Wednesday, March 9, 2022, we have chosen three convenient times: 4 a.m., 12:00 p.m. (noon), and 8 p.m. Pacific Time (GMT/UTC minus 7 hours)*. Please join with others on the Global Coherence App. Thank you for being with us.
Let's start with a warmhearted connection to everyone participating in this Care Focus, as this increases the effectiveness of our compassionate care.
Collective Compassion
After two years of coronavirus restrictions, there is increased global stress in the collective mental, emotional and physical systems. A poll taken when the omicron variant was detected in the United States found that 6 in 10 said they were "worn out" by the pandemic. Many said they were struggling to maintain tolerance and had a shorter fuse for irritation and anger. Others said the uncertainty was intensifying anxiety. The increase in these types of emotions amplifies division and separation within countries, governments, and our societies.
The upside is that we can choose not to be a part of this societal erosion that's draining the heart energy in our connections with each other. This continuous depletion of care energy in our interactions can end up, in the long run, causing more damage than the virus or the mega-storms, etc.
To offset this scenario, we can make an effective heart choice to increase our compassionate latitude for each other and ourselves, realizing that people are doing the best they can, considering the stress load and duress many have experienced. Within our hearts, we can sense that most of us are likely experiencing similar highs and lows in our thoughts, feelings, and challenges.
Increasing our compassionate care for each other gives us the capacity and resilience to empathize with others' stress points without losing our own emotional equanimity. As heart energy increasingly moves through our interactions, our own harsh judgments and separative feelings start to fade and become replaced with a desire to be kinder and cooperate together. This can draw solutions that are better for the whole. This doesn't require being identified with any spiritual belief – you can do this now because it is simple common sense.
Compassionate latitude will replace many of our judgments of others as we realize we are all making similar types of mistakes in a fog of uncertainty, along with the strain of having to make life-altering decisions sometimes in the spur of the moment. We all are having our moments with stress overload, and compassionate latitude can help with this.
Have you ever strongly judged someone at work for a mistake without giving them any latitude, then at home your family says how grumpy you are and hard to be around, and the next thing out of your mouth is, "Please give me some latitude; I'm under tremendous stress at work?" Meaning, we may not express latitude to others, yet we love it when it comes our way. It has invisible, yet palpable benefits, especially in this pressurized social adjustment time that we are collectively experiencing.
The subject of Compassion is now trending globally, bringing a sense of hope for humanity to move forward from surviving to thriving, along with increased care and cooperation. More people are now sensing that collective compassionate care is a fundamental component of the next-level of intelligence humanity is being awakened to. The shift that collective humanity is now experiencing across the planet is creating a time-release momentum for awakening us to open our hearts and treat each other with compassionate care, kindness, forgiveness, cooperation, and fresh starts.
Let's become proactive in increasing our compassion for each other. See it as practical, common street sense that can lighten this planetary moment we are experiencing now. Understand that compassion is intelligence-in-action and install it as a way of life. Caring for each other more is the secret sauce for removing the cloud of density that's between us and a thriving, happier future when our heart's intuitive guidance becomes the director of our decisions. It's our choices that will determine how long this cloud stays parked over our planet. Let's open our hearts, care more, and create a new reality.
Care Focus Collective Compassion
Start with quiet breathing while radiating feelings of gratitude for someone or something. This helps open and warm our heart and raises our vibration.
Now radiate heart feelings of genuine care and compassion into the planetary energetic field to help soften the challenges people are going through.
Now see yourself practicing replacing judgments, frustration, and lack of tolerance with compassionate latitude for others and yourself. Remember that compassionate latitude has the understanding that most people are doing the best they can according to their upbringing, awareness, and stress overload. Practicing several days in a row helps to anchor in this valuable habit along with preventing much stress.
Envision that the ongoing crises that humanity is experiencing are increasing a heart awakening of collective compassion which will unveil new possibilities for humanity and our planet.
Let's close by sending our collective compassion to all who are stressed and suffering hardships at this time, including people, animals, trees, and all of nature.
Thank you for Caring.
The following website – https://timeanddate.com/s/33sd – is a time conversion site for determining the exact time the Care Focus will take place in your Local Time Zone.

Select Time: 8 p.m. (date optional).
Convert from: Location: USA – California – San Francisco.
Convert to: Location: (Select your Country/City).
---
Learn more about the Global Coherence App, Synchronized Care Focus events and to how to download the app.
---
Please feel free to share this Special Care Focus with anyone in your life you feel may benefit.
We would love to hear from you!
Please share with us your thoughts, feelings or experiences in the comments below.