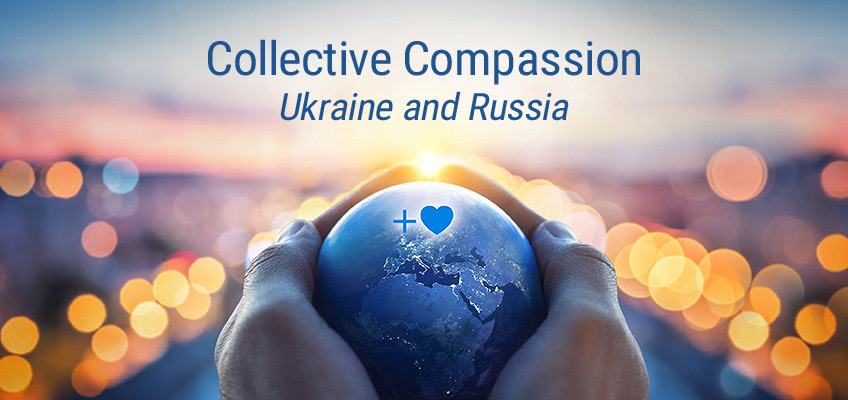 Special Care Focus: Collective Compassion –

Ukraine and Russia
Welcome to the Special Care Focus – Collective Compassion – Ukraine and Russia. In order for everyone around the world to participate in a synchronized Care Focus, on Wednesday, May 11, 2022, we have chosen three convenient times: 4 a.m., 12:00 p.m. (noon), and 8 p.m. Pacific Time (GMT/UTC minus 7 hours)*. Please join with others on the Global Coherence App. We will do a special care focus every Wednesday until the Ukraine and Russia war subsides.Thank you for being with us.
Let's start with a warmhearted connection to everyone participating in this Care Focus, as this increases the effectiveness of our compassionate care.
Collective Compassion –
Ukraine and Russia
There has been a global outpouring of collective compassion since the start of the Russia-Ukraine war for all the people who are suffering, have lost loved ones, lost their homes, and had their whole lives displaced.
Many people around the world watching the news are experiencing heightened fear, insecurity, outrage, and feelings of powerlessness. Many are calling from their minds and hearts to please Stop this War! "War is outmoded," said the Dalai Lama, and most all of us feel that in the core of our hearts.
Across the planet, people are experiencing stress overload from their emotional responses to the atrocities. This is understandable. However, for your own wellbeing, occasionally take a time out somewhere and breathe the feeling of balance and calm from your spirit for a while. Envision this renewing your mental, emotional and physical nature. Doing this from the heart can restore resilience and help with the stress.
Let's also keep increasing our care and compassion for each other and for ourselves. In whatever way we choose to send compassionate care, it's important to keep the continuity of our collective compassion going out to all people affected by this war. Do this as you can, according to your life's circumstances. All love counts, even if we can't always see the ways that it helps.
Care Focus Collective Compassion –
Ukraine and Russia
Start with quiet breathing while radiating feelings of love and care for someone, a pet, nature, etc. This helps open and warm the heart which increases the effectiveness of the Care Focus.
Now, let's send our deepest care and compassion to people directly affected by the

Russia-Ukraine

war. This includes the people of Ukraine, soldiers and refugees, many people in Russia who are saddened with pain in their hearts regarding the invasion, and many others throughout the planet.
Next, send compassion and gratitude to the people and countries taking in millions of refugees. Send heart that those who support this war might open their hearts to the pain the war is causing and realize the setback it is inflicting on nations, much less the world community.
Now, see our deep heart's care contributing to a global heart awakening of collective compassion that's on the rise as a result of this war.
Let's close by envisioning that humanity will realize that war is a thing of the past and that we need to come together in the heart to work things out.
It is effective to continue doing this Care Focus or individual steps of it after the full moon period, if convenient. The planet is calling for continuity of collective compassion going out to all people affected by this war.
Thank you for Caring.
The following website – https://timeanddate.com/s/33sd – is a time conversion site for determining the exact time the Care Focus will take place in your Local Time Zone.

Select Time: 8 p.m. (date optional).
Convert from: Location: USA – California – San Francisco.
Convert to: Location: (Select your Country/City).
---
Learn more about the Global Coherence App, Synchronized Care Focus events and to how to download the app.
---
Please feel free to share this Special Care Focus with anyone in your life you feel may benefit.
We would love to hear from you!
Please share with us your thoughts, feelings or experiences in the comments below.