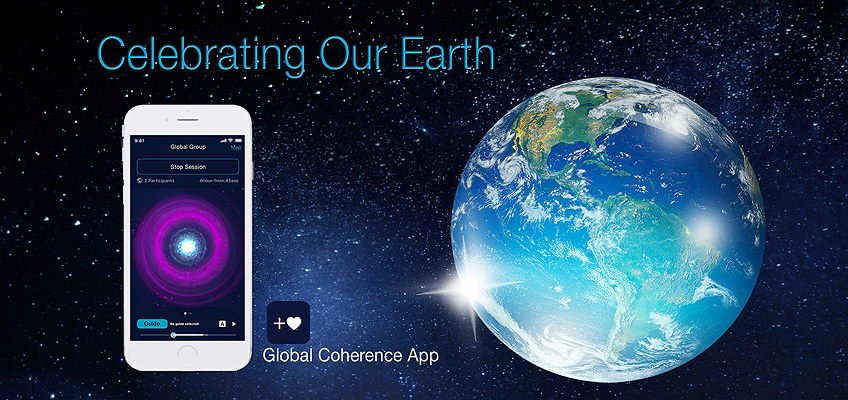 Special Care Focus:

Celebrating Our Earth
Welcome to the Special Care Focus – Celebrating Our Earth. In order for everyone around the world to participate in a synchronized Care Focus, Saturday, April 22, 2023, we have chosen three convenient times: 4 a.m., 12:00 p.m. (noon), and 8 p.m. Pacific Time (GMT/UTC minus 7 hours)*, or whatever time is convenient for you. To join with others use the Global Coherence App. Thank you for being with us.
Celebrating Our Earth
With all that's going on in the world, it's helpful and renewing to pause to celebrate Earth and nature. This is the purpose of Earth Day. Regardless of our different nationalities, religions, races, cultures or political beliefs, we all live together on our one planet. When we pause to celebrate our beautiful planet, we uplift our spirit and increase our capacity to love and care for each other.
One of the greatest ways we can celebrate our planet is to make a heartfelt commitment to take more responsibility for our own energies – our thoughts, feelings, emotions and actions. It's especially important to remember to find balance within yourself. As more of us give priority to our inner balance, it can facilitate balance in our relationships and in Earth's ecosystems as well. Living in balance and harmony with each other raises our vibration and are among the highest gifts we can give to Earth as it can help magnetize higher vibrational solutions to humanity's and Earth's challenges.
Care Focus
Celebrating Our Earth
Center in the heart and breathe love and appreciation for a minute or two for nature or for someone or something close to your heart. This warms your heart and increases the effectiveness of your Care Focus.
Now, connect with the hearts of people throughout the world from all cultures who are celebrating our Earth.
Visualize humanity and our planet as you would want them to be – experiencing peace, harmony and

heart-based

connections between all living systems. See humanity awakening to the realization that our feelings, attitudes and behavior patterns affect Earth systems and our happiness.
Let's envision an increasing momentum of people opening their hearts and putting love, compassion and heartfelt connection into caring action.
Now, let's send our collective heart energy to animals, trees, coral reefs and other Earth systems suffering from the impact of human activity and climate change.
Let's close by sending our compassionate care to all who are experiencing war, disease, social injustices, and other areas of stress as your heart guides you.
Thank you for Caring.
---
The following website – https://timeanddate.com/s/33sd – is a time conversion site for determining the exact time the Care Focus will take place in your Local Time Zone.

Select Time: 8 p.m. (date optional).
Convert from: Location: USA – California – San Francisco.
Convert to: Location: (Select your Country/City).
---
Learn more about the Global Coherence App, Synchronized Care Focus events and to how to download the app.
---
Please feel free to share this Special Care Focus with anyone in your life you feel may benefit.
We would love to hear from you!
Please share with us your thoughts, feelings or experiences in the comments below.