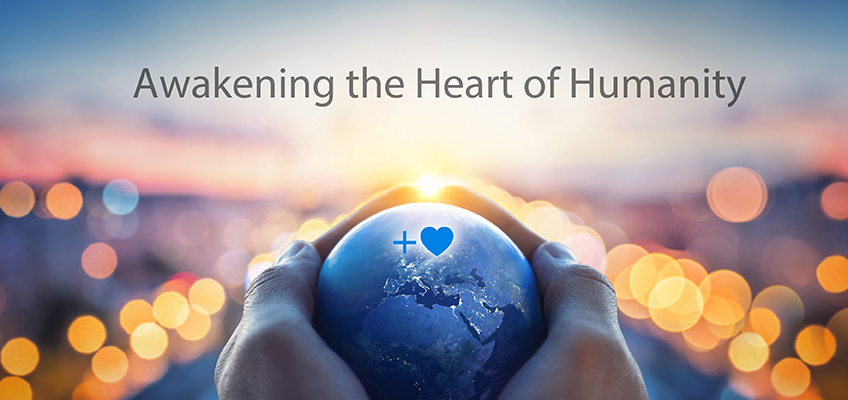 Special Care Focus #4: Awakening the

Heart of Humanity
Welcome to a Special Care Focus #4 – Awakening the Heart of Humanity. In order for everyone around the world to participate in a synchronized Care Focus, on Wednesday June 17th we have chosen three convenient times: 4 a.m., 12:00 p.m. (noon), and 8 p.m. Pacific Time (GMT/UTC minus 7 hours)*. Please join with others on the Global Coherence App. We will do a special care focus every Wednesday until the Coronavirus pandemic subsides. Our next special care focus we will be holding will focus on sending collective heart to the social injustices. Thank you for joining with us.
As countries re-open from sheltering at home, people are wondering what will be the new normal? Currently there is much social unrest – from people refusing to abide by re-opening restrictions such as social distancing to the protest demonstrations engulfing US cities, and around the world. There are many levels of awareness and perceptions throughout collective humanity. Our minds may be different based on beliefs, upbringing and life situations, but our hearts can find harmony with each other in a shared existence, if we desire this. It's in the heart that we access the core qualities of love, compassion, care, kindness, forgiveness and appreciation that lift us above separation, judgment and blame. More people than ever have been experiencing and expressing an abundance of these enriched heart qualities over the past few months, recognizing this is who we truly are and not wanting to go back to the old normal.
Through intentionally demonstrating these heart qualities in our lives as we emerge from isolation, we have a unique opportunity to continue an awakening of our heart's natural, compassionate care and desire to create the future together in harmony. Yes, it takes a little energy to practice, but not as much as it takes to recoup from the stress and health problems that accrue from not including our heart's qualities and guidance in our interactions and choices.
Many people are feeling convinced that if we return to the old normal, then life's stepped-up challenges and restrictions will become the new norm. However, more and more people are inclined to believe it's highly possible we can create something new. Increasingly, much of humanity is feeling in their hearts that we need to start treating each other and our Earth with more care, compassion and respect. This could become our newest discovery in energy economy (once understood).
GCI's research is indicating that Earth's energetic fields resonate with and amplify collective heart energy. Managing our mental and emotional energies, moving with foresight, and putting out more compassion and kindness at this time will help to continue the activation of increased heart energy throughout humanity – a key purpose of the Shift. Together, let's seize this obvious, unprecedented opportunity to co-create a new normal – a world in which it's common sense to be benevolent and cooperate with each other for the highest good of all.
Let's start by connecting in the heart with everyone participating in this Care Focus and radiating love and appreciation to each other.
Care Focus – Awakening the
Heart of Humanity
Breathe appreciation for anything or anyone close to your heart for a few minutes to warm and activate your heart energy.
Feel your heart connecting with others across the planet who are sending love, care and compassion to people suffering from health or financial stress or other extreme personal and societal challenges during these times.
Let's each commit to a practice of replacing standard reactions of judgment, blame and separation with compassion, kindness and cooperation for the good of the whole – our own peace.
Now, imagine yourself breathing into your cells, feelings of a deeper connection with the spirit of nature and of Earth. This helps to ground and balance our mental and emotional energies for clearer discernment and effective choices.
Let's close by envisioning people worldwide continuing to awaken to and

re-creating

these increased heart feelings that so many are experiencing, such as love, compassion, kindness and cooperation, and especially the unconditional desire to be of service.
There are enough people awakening to prevent old attitudes and perceptions from receding all the way back to where they were before the virus. It's our individual and collective responsibility to maintain this heart momentum and let it become our baseline for creating and thriving in a world of increased peace, fun and fulfillment. Love can create such things, yet we have to choose it.
You can continue to do this Special Care Focus, if convenient, for 5 minutes each day and help lift the energy field environment that surrounds you, your family and our planet.
Thank you for your participation in this Special Care Focus.
Doc Childre
* Learn more about the Global Coherence App, Synchronized Care Focus events and how to download the app.
---
* The following website – https://timeanddate.com/s/33sd – is a time conversion site for determining the exact time the Care Focus will take place in your Local Time Zone.
Select Time: 8 p.m. (date optional).
Convert from: Location: USA – California San Francisco.
Convert to: Location: (Select your Country/City).
---
Please feel free to share this Special Care Focus with anyone in your life you feel may benefit.
We would love to hear from you!
Please share with us your thoughts, feelings or experiences in the comments below.