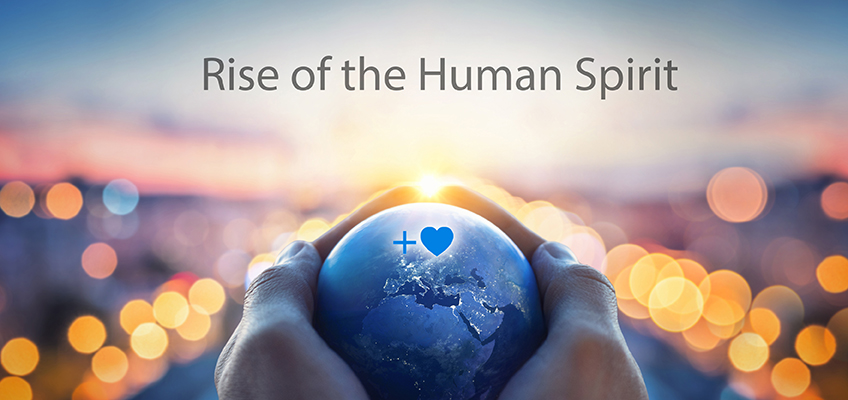 Special Care Focus #2: Rise of the Human Spirit (Update)
Welcome to a Special Care Focus #2 – Rise of the Human Spirit. In order for everyone around the world to participate in a synchronized Care Focus, beginning Wednesday, May 20th we have chosen three convenient times: 4 a.m., 12 p.m. (noon), and 8 p.m. Pacific Time (GMT/UTC minus 7 hours)*. Please join with others on the Global Coherence App or the Global Care Room. We will do a special care focus every Wednesday until the Coronavirus pandemic subsides. Thank you for joining with us.
Share with those you feel it could help.
We are honored to be with you as we connect in the heart with everyone participating. Let us take a moment to radiate love and appreciation to each other and to Earth.
For the May synchronized Care Focus we will continue with an Updated version of our Special Care Focus 2 – Rise of the Human Spirit to help soften the effects of COVID-19 pandemic. While some countries are now easing restrictions and allowing businesses to re-open, over a billion people worldwide are still on lockdown and social distancing. The economic toll has been devastating.
The coronavirus pandemic is awakening multi-millions to the reality of our interconnectedness. The virus doesn't discriminate race, nationality, religion, political beliefs or financial status. We are all in this together, which can turn out to be the bright side of it all. Millions are isolated by "shelter in place" or separated by "social distancing," yet sensing that it's now time to care for each other more than ever.
Here's what is most important:
Many people are restless while others report feeling lonely in social isolation and using the time to slow down, go deeper into reflection, and reach out online to connect with family, friends and social groups. Social isolation has long been known to researchers as a key trigger for mental illness, while supportive relationships with friends, family and neighbors are beneficial to the mental health of individuals and the population. Collective online participation of people sharing, bonding and sending heart and compassion to others — this releases more heart energy (love and care) into our system which especially lifts our spirit while boosting our confidence, immune system and resilience. Caring and compassionate interactions should be a must, rather than an option, if our life situation permits. If you are alone, then sending love and compassion to others can help greatly.
The rise of the human spirit is in the air, along with high anxiety and insecurity. That's understandable. As individuals and countries collaborate, while releasing blame and separation, humanity will increasingly realize the power of collective heart intention for drawing to us the best outcomes for present and future situations.
Many people share with HeartMath that they strongly sense from within, that life is calling for the next level of care and authentic connection with each other. Increasing our kindness, compassion and cooperation will eventually be realized as highly intelligent and efficient street sense, not just spiritual disciplines. The new spiritual is to bring these qualities of the heart to the street in our interactions with each other. Most of us feel we want more harmonious interactions, but we must step into it with our heart's intention in order to change the old habit imprints. We can, and will, eventually do this – because it is who we are. Sometimes life nudges us more firmly to step into perceptions and choices that are the best for us and the whole. Our hesitancy to connect deeper is part of the old human nature, yet we are moving into the new natural as the collective heart of humanity continues to open.
Compassion, helpfulness and cooperation feel good and natural in our present challenges — seemingly more so than ever before as this is happening worldwide. It exemplifies the new natural and the rise of the human spirit. The objective for humanity is to practice sustaining this genuine care without needing stress to remind us. This is forward movement toward the next level of consciousness for humanity. The door is wide open for a fresh start to qualify life through the heart. Solutions are within our hearts. Caring for and assisting each other more is key for increasing the connection with our heart's intelligent guidance and solutions — a secret that's been hidden in the open all along.
Care Focus – Rise of the Human Spirit (Updated)
Breathe feelings of peace and love through your heart area for a few minutes to set a calm and genuine tone.
Feel your heart connecting with others who are sending compassionate care to all who are suffering the challenges of this virus. See the power of the collective amplifying the effectiveness of your care.
Let's send our most sincere appreciation, love and compassion to all the

front-line

providers and those helping behind the scenes while risking their lives. See them surrounded by love, compassion and resilience as they serve selflessly.
Now, envision these times inspiring deeper connections and more harmonious cooperation among people for the good of the whole. See humanity transitioning into the crucial importance of love, compassion, cooperation and

heart-felt

service, for creating the new world that we now stand at the door of.
Let us send all the families and friends who have lost loved ones our deepest compassionate care and heart warmth, for they bear the most suffering and pain that is being experienced. Then honor and appreciate all the souls who have lost or are losing their lives as we share this. They are all heroes. Desire the highest best for them on their next journey.
It's Heart time on the planet – humanity is just waking up from a deep extended nap. We are experiencing the rise of the human spirit. The hope for new is in the air and being increasingly felt and created by more and more of us.
If convenient, it is effective to continue with some or all these Care Focus steps after the full moon period. This will continue to raise the consciousness vibration in the personal and collective field environment.
Thank you for Caring.
Doc Childre
---
* The following website – https://timeanddate.com/s/33sd – is a time conversion site for determining the exact time the Care Focus will take place in your Local Time Zone.
Select Time: 8 p.m. (date optional).
Convert from: Location: USA – California San Francisco.
Convert to: Location: (Select your Country/City).
---
Please feel free to share this Special Care Focus with anyone in your life you feel may benefit, click here.
We would love to hear from you! Please share with us your thoughts, feelings or experiences in the comments below.