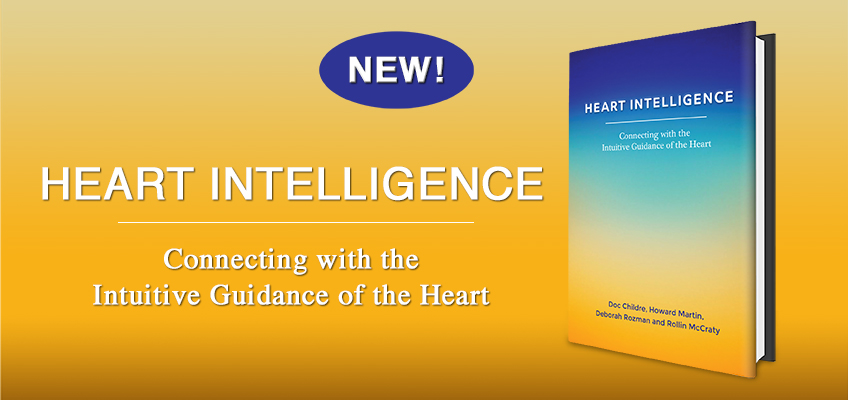 NEW! Heart Intelligence Book
Heart Intelligence: Connecting with the Intuitive Guidance of the Heart by Doc Childre, Deborah Rozman, Rollin McCraty, and Howard Martin, is a timely new book from HeartMath, the first in nearly ten years.
"Picture heart intelligence as the flow of awareness, understanding and intuitive guidance we experience when the mind and emotions are brought into coherent alignment with the heart. This intelligence steps down the power of love from universal source into our life's interactions in practical, approachable ways which inform us of a straighter path to our fulfillment." Doc Childre, HeartMath Founder, Chairman and Co-CEO
This new book Heart Intelligence, Connecting with the Intuitive Guidance of the Heart provides readers with a new, high definition picture of the energetic heart as a unifying, creative, intuitive intelligence that we can learn to draw on for moment to moment guidance.
Get the Book
(Available exclusively on Amazon.)
Heart Intelligence links the physical heart to the spiritual (energetic) heart. Through its extensive communication with the brain and body, the heart is intimately involved in how we think, feel, and respond to the world.
The book provides information and simple practices for accessing our heart's intuitive guidance to connect with our highest choices for better outcomes. Our choices are especially important through these changing times because they constantly create or disrupt our peace, happiness and self-security.
Our thoughts and feelings influence the chemistry that regulates much of our health — how we feel, for better or worse. Our thoughts, feelings, emotions and attitudes are just frequencies that we can learn to change — once we put our heart into our intention.
Readers will gain valuable insights for establishing a much needed partnership between the heart and mind, and how this is a "key" step forward in creating balance within ourselves and in our relationships with others.
Readers will learn how our heart's intelligence can be used to create coherence between the heart, mind and emotions to raise our vibration and energy levels; prevent and handle stress with more ease; and link us to inner wisdom and intuitive guidance from our true self.
Heart Intelligence provides practices to replace fear with the attitude of intelligent concern (managed concern) which leaves us in charge and more attuned to intuitive direction. We learn the benefits of practicing simple coherence techniques a few times a day for boosting resilience and emotional balance; making appropriate choices; and clearing our mind from anxiety or overwhelm when needed.
Expanding on their breakthrough book, The HeartMath Solution, the authors offer heart-based exercises and guidelines for living from the heart, which connects the puzzle pieces of our purpose and fulfillment.
It is through deepening our heart coherence and connection that humanity will be able to shift from separation to cooperation resulting in higher solutions to our personal and global problems.
Get the Book
(Available exclusively on Amazon.)