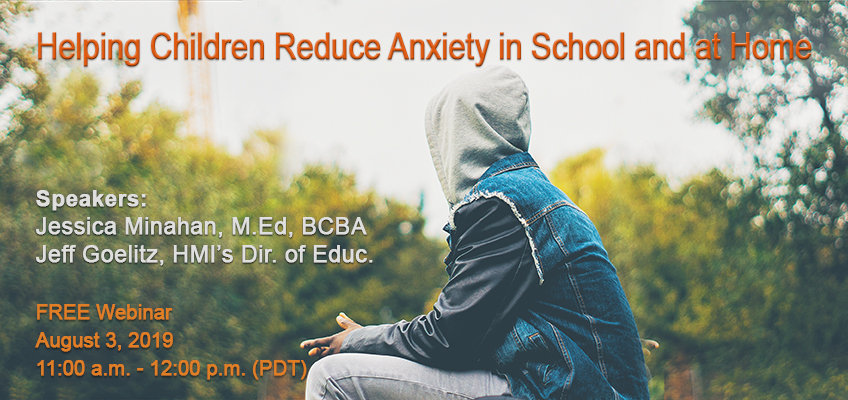 Helping Children Reduce Anxiety in School and at Home
Join Jessica Minahan MEd, BCBA, and host Jeffrey Goelitz, HMI's Director of Education, for a free webinar Helping Children Reduce Anxiety in School and at Home on August 3, 2019.
Anxiety is the leading mental health issue among today's youth, and it is rising. The National Institutes of Health (NIH) reports that one in three thirteen-eighteen-year-olds has already experienced a major anxiety disorder. Without intervention, these children are at risk for poor performance, diminished learning, and social/behavior problems in school. Understanding the role anxiety plays in a student's behavior is a crucial first step. Then clear prevention strategies follow. A successful intervention avoids the old-fashioned reward and punishment-based system from traditional behavior plans and instead focuses on the use of preventive strategies including explicit instruction on coping skills, self-monitoring, and alternative responses.
Woven throughout this one-hour long webinar will be helpful case studies, humorous stories, and examples of proactive responses to common student challenges. Participants will be able to implement several preventive tools, strategies, and interventions for reducing anxiety and negative thinking, increasing self-regulation, executive functioning, and self-monitoring.
---
---
In this webinar, Jessica Minahan will cover:
Prevalence of anxiety in today's youth.
How does anxiety show up in the lives of youth?
Simple anxiety-reducing tools and strategies for everyday application.
Common behavior techniques that might not be helpful.
Reducing negative thinking toward academics.
---
---
The Helping Children Reduce Anxiety in School and at Home webinar will be recorded. You will receive a replay link within a few days after the discussion.
We look forward to having you join us for this very informative webinar.