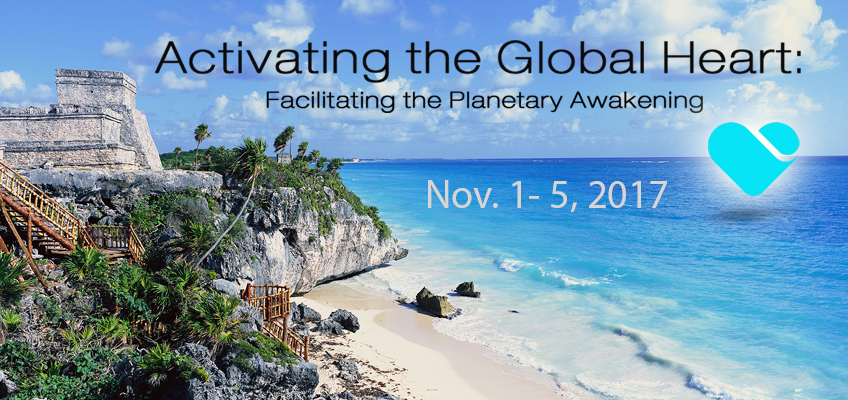 Activating the Global Heart:
Facilitating the Planetary Awakening Event
HeartMath Institute and Global Coherence Initiative Event, Wednesday-Sunday, Nov. 1-5, 2017 in the Riviera Maya on the Yucatan Peninsula, near Tulum, Mexico.
Come and join us for a transformative experience for the Activating the Global Heart: Facilitating the Planetary Awakening, our sixth annual gathering in Mexico. Experience a time for re-connection, renewal and uncover the next steps in your purpose and mission. Join us for a celebration of our HeartMath global family while learning new tools, research and ways to help Activate the Global Heart.
View Activating the Global Heart Program Schedule
Your Personal Training Program Hosts: Three master trainers.
All program host are members of the Global Coherence Steering Committee and co-authors of the book: Heart Intelligence: Connecting with the Intuitive Guidance of the Heart. They have appeared on numerous radio shows and teleseminars, and you've seen them in films such as I Am, The Living Matrix and The Solar Revolution.
Come and interact with them.
Rollin McCraty, Ph.D., research director and executive vice president of HeartMath Institute, project coordinator of GCI's Global Coherence Monitoring System and author of The Science of the Heart.
Howard Martin, executive vice president for strategic development at HeartMath Inc. and co-author of The HeartMath Solution.
Deborah Rozman, Ph.D., president and co-CEO of HeartMath Inc. and co-author of the Transforming Book Series.
Activating the Global Heart Program, What You Will Learn
Heart-awakening tools for raising the baseline of your spiritual awareness.
Demystifying intuition, learn easier ways to increase the connection with your intuitive heart.
Increasing and maintaining emotional composure when we feel global waves of chaos and tension.
New HeartMath techniques for facilitating heart-based communication and social coherence.
Shifting your frequency of awareness and recognizing when you are in a higher vibration.
Discussions on these radical changing times and how we can collectively influence higher outcomes.
Create intentional energy fields that raise your consciousness vibration and that of others.
Explore the power of the collective to lift the planetary vibration.
Creating, not waiting, for your fulfillment.
Raising your spiritual vibration by opening your heart more to others.
The Global Coherence Monitoring System: measuring Earth's magnetic rhythms.
Energetic Connectivity – how we influence each other by the energetic fields we generate.
Using heart-connected communications to help reduce separation and increase cooperation
Reduce trigger points and long-running whisper thoughts that lead to worry, anxiety and overwhelm.
Identify and release preset attitudes and blocks to your higher spiritual potentials.
Advance your empowerment by increasing heart qualities such as patience, connection, acceptance and cooperation among others.
Mornings
Each day from 9:30 a.m. to 12:45 p.m. is the Activating the Global Heart: Facilitating the Planetary Awakening Program presentations. Rollin McCraty will present a deeper understanding of interactions between humans and the earth's energetic fields and talk about new research findings including the Interconnectivity Tree Research project. Howard Martin will present inspirational stories, antidotes and new tools. Deborah Rozman talk about the ongoing Shift and how together, we can elevate the baseline of planetary consciousness for ushering in a new era of increased harmony and peace.
Afternoons
Free time is scheduled into each day so you can have fun and practice the tools you'll be learning while making deeper connections with others. After lunch, there's plenty of time to enjoy the hotel beach club and explore the region. Choose from a range of tours of sacred sites such as Mayan ruins. Snorkeling with sea turtles and jungle excursions are available, too.
Evenings
Each evening, we'll gather together for the heart-centered meditation to help activate the planetary social and global heart, facilitating the global awakening. Afterward, we'll share stories and insights and participate in interactive dialogue and question-and-answer sessions.
We live in a time when it is so essential to bring together people who hold in their hearts a vision of a world and future of greater peace, harmony and coherence. Did you know HeartMath Institute sponsors an annual gathering of such people? You can learn about how they are lifting up our planet and how you can participate in this year's event during this special informational webinar. To learn more watch the Activating the Global Heart – Mexico Heart Adventure! webinar With Rollin McCraty, Ph.D., Deborah Rozman, Ph.D., and Howard Martin
How much does it cost?
The beautiful Mexican Riviera on the Yucatan Peninsula, near Tulum will be the setting for what we hope you find to be a fun-filled, heart-inspiring event, which we will discount $200 off the regular price of $1,495 when you make your reservation on or before September 30, 2017.
The cost of the Activating the Global Heart: Facilitating the Planetary Awakening includes the cost of the program and transportation to and from the airport.
Early Registration: July 1-Sept.30, 2017. Cost: $1,295 Save $200.
Final Registration: October 1-30, 2107. Cost: $1,495.
Space will be limited for this event, so early registration is encouraged, and don't forget the $200 Early Registration discount when registering by September 30.
Accommodations
The rate for this event, unlike in previous years, only includes the cost of the program and transportation to and from the airport, not the cost for hotel accommodations. You will need to make your own hotel and flight reservations.
We have reserved a block of rooms at a special discounted rate of $110 per night for double occupancy and $188 for a private/single occupancy room. You will receive information on how to reserve your hotel room immediately upon registering for the program.
The Grand Bahia Principe Sian Ka'an, is a quiet, all-adult hotel, just across the street from the conference room location. It's an inclusive package, which means your meals will be free at any of the 12 restaurants.
More Program Highlights
An international celebration of the heart.
Participate in global coherence meditations designed to help awaken the heart of humanity.
Cultivate the balance needed to flow with the evolutionary speed of change and find greater purpose.
An informative look at the interconnectivity research showing the existence of the energetic fields that link all living systems and how we relate to these fields.
Come and revitalize while increasing the connection with your own and others hearts.
Profits from Activating the Global Heart: Facilitating the Planetary Awakening special retreat will support HeartMath Institute's unique project the Global Coherence Initiative.
For more information about this event, call Del Walker at (831) 338-8502 or toll-free at (800) 711-6221, or e-mail Del at delwalker@heartmath.org.
Especially for HeartMath Trainers, Coach/Mentors and HeartMath Trained Clinicians
Trainers Day sessions will start after the final regular program morning session on Nov. 5 afternoon through Monday, Nov. 6 noon. This means you'll need to book an extra night at whichever hotel you stay. The Trainers Day is a Gift, so there is no charge for those of you that are certified.
Sunday, November 5 2:00 to 5:00 p.m. • Next Steps of Co-Creating a Heart Connected World. • Specialty Breakout Sessions.
Sunday Evening 7:00 to 9:00 p.m. • Connection of Community Trainers • Share Your Building Businesses Success and Challenges.
Monday, November 6 9:00 a.m. to 12:00 p.m. • New Ideas for Business Building • Group Discussion – Q and A.
If you have attended one of our previous annual gatherings in Mexico, we would love you to leave a comment about your experience.